Batman infiltrates Fortnite with Caped Crusader skins and Gotham City
Fortnite's latest crossover is Batman themed, complete with Dark Knight skins and a Gotham City transformation.

Published Sep 21, 2019 12:13 PM CDT
|
Updated Tue, Nov 3 2020 11:47 AM CST
Fortnite gets an epic Batman crossover to celebrate the Caped Crusader's 80th anniversary.
The Dark Knight has infiltrated Fortnite's battle royale mode, complete with specific challenges and Batman skins straight out of the comics and the movies.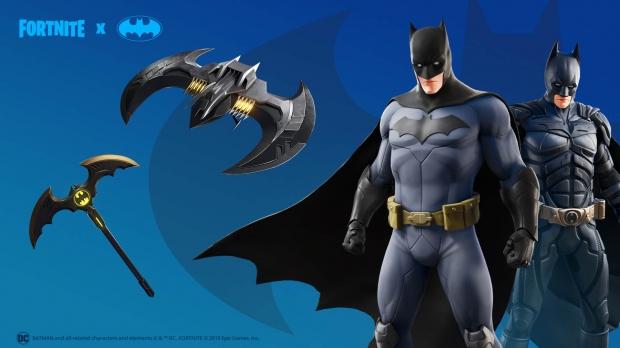 There's a bunch of gadgets straight from Bruce Wayne's arsenal, including a grappling hook and an explosive batarang (both come in mythic variants). Catwoman makes a cosmetic appearance too, complete with her rakish claws.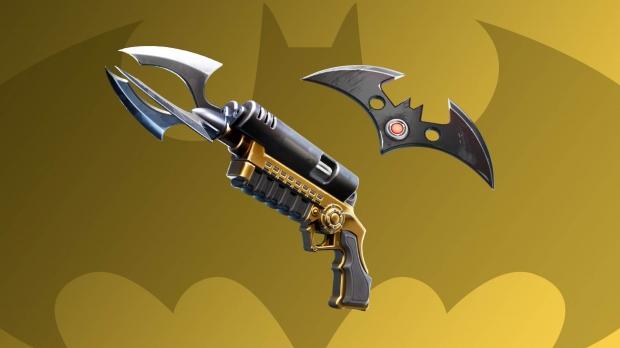 The most interesting bit is how Epic transformed the battle royale shooter's home town into the gloomy streets of Gotham City. Tilted Town is now stylized after Gotham from the beloved Batman animated series, complete with that distinct and iconic cartoony flair and color scheme.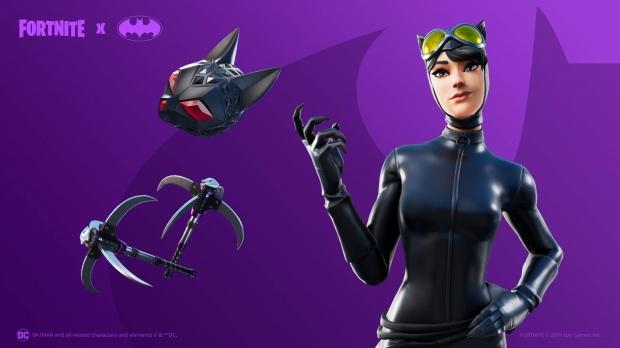 This move follows Epic's recent massive six-game Batman giveaway on the Epic Games Store and punctuates the hero's 80th birthday. Be sure to download Rocksteady's excellent Arkham trilogy ASAP and even grab the Lego freebies for some hilarious fun.
Fortnite's Batman crossover will run up until October 1, 2019 on all platforms including mobile.
Here's more info from the latest Fortnite patch notes:
WEAPONS + ITEMS
Batman Grapnel Gun
Available in Mythic variant.
Found from Floor Loot, Chests, Supply Drops, and Llamas.
The Batman Grapnel Gun comes with 10 charges. A charge is consumed each time the player is launched.
When the grappling hook from the Batman Grapnel Gun impacts something in the environment, the owner will be launched in a flat arc towards the point of impact.
At the apex of the launch, the player will deploy the Bat Cape, which can be used like any other Glider to traverse great distances.
Explosive Batarang
Available in Mythic variant.
Found from Floor Loot, Chests, Supply Drops, and Llamas.
Drops in stacks of 5.
Max stack size is 10.
This consumable item is thrown out in a relatively flat arc. It will home in towards opponents.
The projectile explodes when in close proximity to an opponent.
Explosion damage:
50 damage to players.
200 damage to the environment.
If the Explosive Batarang impacts the environment, it will stick to the spot where it lands. At that point, it behaves as a proximity mine, exploding when opponents come too close to it.
An Explosive Batarang that has impacted the environment can be disarmed and picked up by both the player who threw it or their allies.
Bug Fixes
Resolved an issue involving the Star Wand and AC/DC Pickaxes not doing the intended amount of damage.
Because this issue has been resolved, these Pickaxes have been re-enabled.
GAMEPLAY
Gotham City
As part of the Fortnite X Batman crossover, a Rift Zone has turned Tilted Town into Gotham City!
This POI gives players unlimited Glider Redeploy. Just like a real Super Hero, you won't need to be afraid of heights!
Final Storm Circles will not occur here (in core and Arena modes).
Final Storm Circles will no longer occur at the following locations (in core and Arena modes):
Moisty Palms
Greasy Grove
Retail Row
Pressure Plant
Bug Fixes
Resolved an issue in which Ziplines could give players an unintended effect.
Because this issue has been resolved, Ziplines have been re-enabled.
When a player is eliminated, their damage towards the Storm Surge threshold will no longer be removed from their remaining teammates' total.
Related Tags