Twitch streamer banned over sexually suggestive fighting game costume
A female Twitch streamer has been banned over a sexually suggestive cosplay costume.
Published Sep 17, 2019 3:11 AM CDT
|
Updated Wed, Jul 27 2022 3:46 AM CDT
2 minutes & 6 seconds read time
Twitch streamer Quqco has announced that she has been banned from Twitch for violating the websites streaming guidelines, her offense comes under "sexually suggestive content or activities".
The ban happened when Quqco did a weekend stream in a cosplay outfit, and dressed up as the Street Fighter character Chun-Li. As both PCGamer and Kotaku note, most casual Street Fighter fans know that Chun-Li's outfit features a high thigh-cut slit. Quqco also was aware of this and even "brought [the skirt] one size up to ensure that the slit wasn't too high."
Quqco mentioned to Kotaku that this ban was a targeted attack by "a group of trolls" who have previously reported her in mass. She said "I am immediately reported because I've been branded a thot". From the ban, non-followers and followers of Quqco have taken to Twitter to express their concerns with Twitch's power to pick and choose what content has broken their Terms of Service and why.
Twitch is fully against anything that is sexually suggestive, but Twitch will "consider its intent and context based on a number of factors including, but not limited to" the below:
Behavior and commentary

Reaction to content, such as chat messages from the broadcaster, moderators, and what chat messages they permit in their community

Attire and environment, such as location and background music, props, etc.

Camera framing, angle, and focus

Stream attributes, such as title, intros/outros, custom thumbnail, and other metadata

Profile and channel content, such as banners, profile image, emotes, and panels
When mentioning their guide lines regarding what specific clothing can be worn during stream, they say "For example, something that is acceptable for a broadcast at the beach or the gym may not be acceptable for a cooking or gameplay broadcast. In an effort to help creators abide by our Community Guidelines in the same way they would expectations of behavior in the real-world, we've updated our policies to reflect that we will consider not just the attire itself, but also the contextual setting in which it is worn and the intent of the person wearing it, when moderating content. Please remember that sexually explicit or suggestive content, such as nudity exposing or focusing on genitals, buttocks, or nipples, and attire intended to be sexually suggestive are prohibited."
I suppose the true question here is who decides what streamed content is "intended to be sexually suggestive". Quqco expresses on her Twitter that Twitch has many other streamers wearing the same, or if not more sexually suggestive clothing and those channels have not been banned.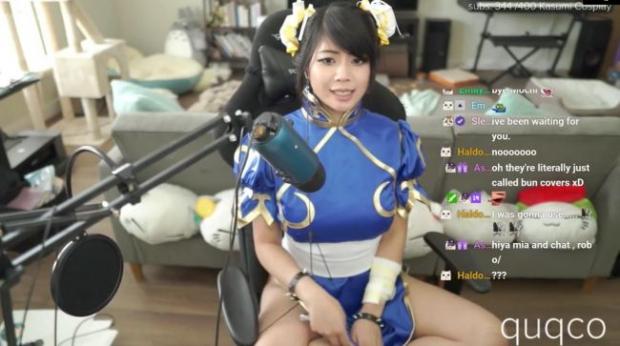 Related Tags