NASA astronauts begin Moon landing gravity training in huge water tank
NASA has begun their astronaut gravity training for the next moon landing in a big water tank.

Published Tue, Sep 17 2019 1:04 AM CDT
|
Updated Tue, Nov 3 2020 11:47 AM CST
Being an Astronaut is no walk in the park, there is numerous different tests you must pass before you strap on a space suit and get blasted off to a nearby planet or Moon.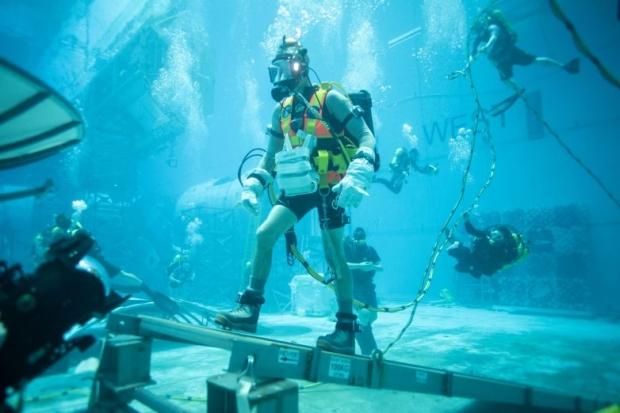 One of these tests is being able to operate confidently in low-gravity, so NASA has begun their low-gravity simulation training in a huge water tank at the Johnson Space Center. Since the Moon has much less mass than Earth, its gravitational pull is considerably less than Earths. In fact the Moon's gravity is exactly 83.3% less than Earths, meaning that when on the Moon an objects weight is reduced to 16.6% of what it would be on Earth.
While training in a water tank in weighted suits isn't a one-to-one simulation of the gravitational change, its the best we can do as a human race for the time being. NASA has given a statement regarding the training, "NASA astronauts wear weighted vests and backpacks to simulate walking on the Moon, which has one-sixth the gravity of Earth. Astronauts Drew Feustel and Don Pettit are among those training in the massive pool, which is used primarily to train astronauts for spacewalks aboard the International Space Station."
At the moment NASA are expecting to be touching back down on the Moon as soon as 2024, at the rocket that they will be taking is about 90% complete, more on that here. In other NASA news, the space agency will be assisnting India in their recently assumed crashed Moon landing, more on that story here.
DALIX NASA Hat Baseball Cap Washed Cotton Embroidered Logo Pigment Dye (H-005-NASA)
Related Tags