Anthem is now free on EA and Origin Access
EA rotates the failed live shooter to its subscription vault, signifying its life-cycle is winding down.

Published Thu, Sep 12 2019 2:01 PM CDT
|
Updated Tue, Nov 3 2020 11:47 AM CST
Anthem is now playable for free as part of EA and Origin Access subscriptions, signifying the game's life-cycle is winding down.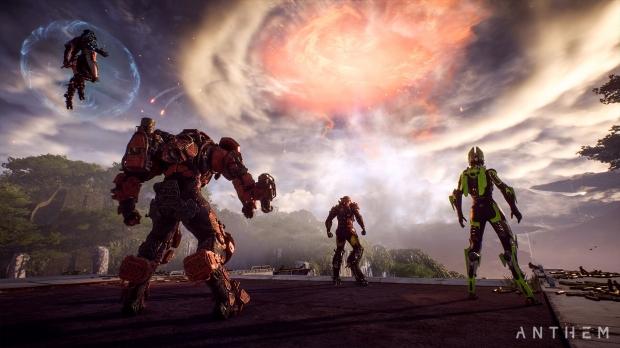 BioWare's failed new live service IP Anthem isn't a year old yet, but it's already being added to EA's subscription vault. The publisher usually moves its online games to the vault for a number of reasons, including age and engagement opportunities. If a game gets too old and isn't selling that well on the market it's typically moved to the Origin Access vault for easier access. The idea is to provide a way to play the game without buying it, and potentially hook gamers into the engagement-monetization ecosystem EA knows and loves.
But Anthem's retiring to the vault may not actually work the way EA intends it to. The game was a commercial success insofar as sales, but recurring revenues dried up like a prune following the terrible live-based experience.
Anthem isn't giving back with microtransaction cash. BioWare simply doesn't know how to make live games and the studio was also facing tremendous internal turmoil during the game's development.
Hopefully this is Anthem's send off. EA will support the game and keep it online for people to try it out, but honestly it's time for the project to wind down. BioWare General Manager Casey Hudson says the studio isn't giving up on Anthem, but it's definitely in the maintenance phases of its live roadmap. Updates are few and far between, and Anthem execs are leaving the studio.
"I know there's a lot more work to do to bring out the full potential of the game. We have plans for those more fundamental improvements, but they'll take time. While the team works towards the longer-term vision of the game, they will also continue to deliver updates to features and content. I believe in Anthem and would love to see its world grow, evolve, and thrive for years to come," Hudson said in a recent update.
Right now BioWare is working on multiple big projects outside of Anthem and Star Wars: The Old Republic. A new Dragon Age title is in the works, and Hudson says other "secret projects" are current in development too.
This could be disastrous for BioWare, who suffered greatly in the past because its attention was spread too thin across too many projects. Anthem should simply be retired and but on the back back burner where it can stew for a bit before it just kind of fades away. BioWare and EA need to cut their losses and move on, and based on this move, I'd say they're doing just that.
Related Tags