WD launches new super-fast external gaming drives with up to 2GB/sec
Western Digital goes for the win with gamers with slick new super-fast external gaming drives.

Published Tue, Aug 20 2019 7:00 PM CDT
|
Updated Tue, Nov 3 2020 11:47 AM CST
Western Digital has just launched five new external storage devices that are being aimed at gamers, with both PC and Xbox One options on offer as well as a super-fast external SSD that I need in my life.
The new WD Black range of gaming drivers comes with up to 12TB of storage, which is enough to keep every single one of the games in the Xbox Games Pass safe and sound. Western Digital made these new drivers with gamers in mind, taking into consideration that most gamers have around 20 games installed that use around 1.7TB of space.
Jared Peck, Senior Product Manger at WD explains: "Some people say my console storage is full, so I'm not going to play. Those are pain points in the survey. People are tired of deleting old games to play new ones".
WD is making a big change here: defining its new WD Black drives as gaming drives, not just external drives. The company estimates that up to 500 million PC gamers, and 125 million console gamers can use these new external WD Black storage products.
Western Digital's new WD Black range has a single design language, with the new family of external storage solutions arriving in the following models:
WD Black P10 Game Drive. It has up to 5TB (125 games) for $150. 2TB for $90 and 4TB for $130. The largest has a capacity for 125 games on a 2.5-inch drive. The 2TB drive has 140 megabytes (MB) per second transfer time, and while 4TB and 5TB versions have 130 MB/second. It has Superspeed USB of 5GB/second connectivity, with one drive and multiple platters. It ships in August.
WD Black D10 Game Drive. It has 8TB, or up to 200 games on one drive. It has a 250MB/second transfer speed with 7200 RPM drives. This drive has active cooling technology and two 7.5-watt charging ports on its power supply so you can charge gaming accessories. It costs $200, stands vertically or horizontal. It has its own fan and ships in September.
WD Black P50 Game Drive SSD. It has 500GB, 1TB, or 2TB. It uses the Superspeed USB at 20 gigabits per second with Type-C connector. It ships in the fourth quarter, has USB-powered LED lights. It transfers data at 1,980MB/second and it has forged aluminum for its top for passive cooling. Pricing is TBD.
WD Black P10 Game Drive for Xbox One. It costs $110 for 3TB or $150 for 5TB. You also get two months of free subscription to Microsoft's Xbox Game Pass Ultimate - a $30 value. It has 130MB/second transfer rates and USB 3.2 Gen1 connectivity.
WD Black D10 Game Drive for Xbox One. It has8TB for 200 games or 12TB for up to 300 games, 250MB/second transfer speed, 7200 RPM, two 7.5-watt charging ports, and external power. It can stand vertically or horizontal and comes with a three-month subscription for Xbox Game Pass Ultimate. It ships in September for $300.
Microsoft and Sony have next-gen consoles coming in the second half of 2020, so Western Digital is smart to align themselves as the go-to storage company for gamers. The external SSD in the WD Black P50 Game Drive SSD is going to be a hot favorite for speed freaks who don't want a slower HDD or SSD.
The next-gen consoles will have PCIe 4.0-based storage but I would say it will be 1-2TB absolute max, so external storage is going to be a big thing in 2020 and beyond. WD is positioning itself perfectly here, and with the single design language they'll also stand out -- with no crazy RGBs... yet.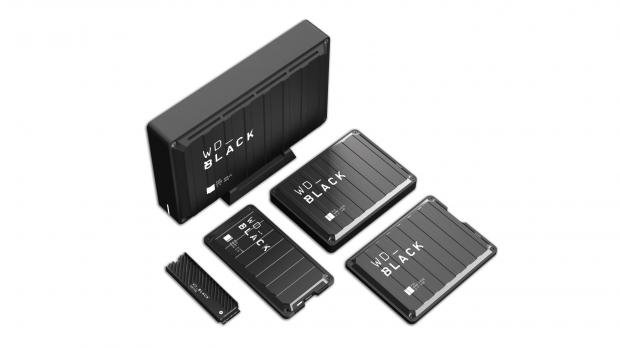 Related Tags