Apex Legends super legendary item costs a whopping $170
Respawn and EA are REALLY pushing the boundaries of loot box mechanics with Apex Legends.

Published Wed, Aug 14 2019 9:22 PM CDT
|
Updated Tue, Nov 3 2020 11:47 AM CST
Respawn kicked off its new Iron Crown Collection event for Apex Legends recently, with a bunch of new in-game items and skins that are up for grabs... with one of the crown jewels being the Raven's Bite, which costs $170.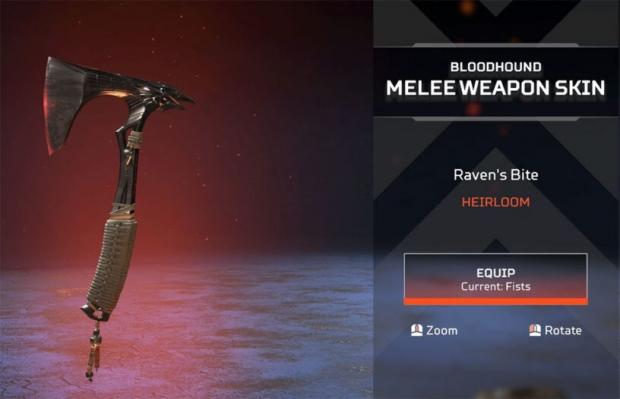 EA locks the Raven's Bite behind a huge paywall, because while the axe costs $35 on its own you can't just buy it outright. You have to have collected all 24 items in the Iron Crown Event, but once you have them all you gain access by the loot box gods to purchase the Heirloom.
In order to get all 24 cosmetic items you'll need to purchase 24 separate Iron Crown Event Packs (each of which includes an Epic or Legendary cosmetic in each pack, and you won't be hit with a duplicate -- EA isn't totally ripping you off here). If you complete the challenges that of 'Deal 25,000 Damage' and 'Complete 20 daily challenges' you're given two Iron Crown Event Packs... so even if you do that, you still need to purchase 22 packs.
You'll need to spend around $170 or so to buy it like this, with 22 Iron Crown Packs, and the Heirloom on its own. Here's how it is broken down into Apex Coin cost:
22 x Iron Crown Packs (each with 700 Apex Coins) = 15,400 Apex Coins

Raven's Bite Heirloom = 3,500 Apex Coins

Total required = 18,900 Apex Coins
I don't know about you, but this is kinda out of control. There are some people that would be obsessed with getting this new Heirloom item, and if they scratch the itch to get it -- then it's going to cost them upwards of $200+ depending on their region. Crazy stuff.
Related Tags