Halo: Infinite sure sounds like a live game
Microsoft Studios boss sure makes Halo 6 sound like a live-driven service game.
Published Aug 11, 2019 4:15 PM CDT
|
Updated Tue, Nov 3 2020 11:47 AM CST
3 minutes & 43 seconds read time
Technically all Halo games are service games with expanded multiplayer (Halo 5 pushed the bar with REQ microtransactions). But Halo 6, aka Halo: Infinite, could push things even further by adding in a live campaign that continually unfolds over time.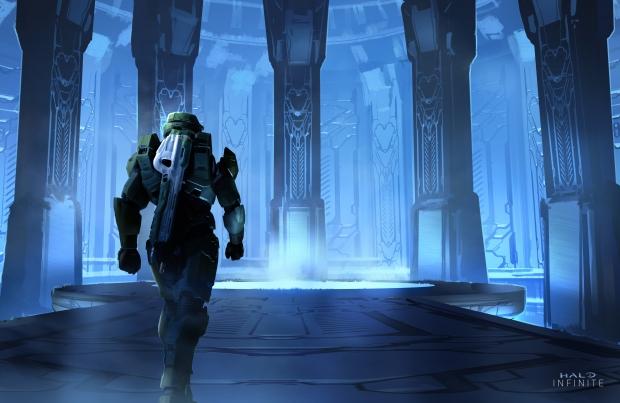 Halo: Infinite is sounding more and more like a hybrid campaign that blends RPG progression with FPS action for a long-winded, ever-evolving experience. I recently predicted Infinite would have a GaaS-based campaign that's updated with new missions, chapters, and storylines across years. I posited that Infinite could be a platform instead of a game; it could be the beginning of a literal infinite rollout of Halo content. Everything about the Xbox business (which thrives from engagement and monetization) and how 343i describes the game makes this seem more and more likely.
Now there's even more evidence to support our theory. In a recent interview with GameInformer, Microsoft Studios boss Mat Booty seems to hint that Halo: Infinite will have some sort of expanded live-based gaming that lives outside of multiplayer.
"I think the first thing that's very cool and where that game is headed is how 343 is thinking about expanding the world. I won't go so far as to say sandbox because you bring up sandbox and people start to overload that term with a lot of other things. But what the team is doing to build a bigger universe and a bigger set of gameplay scenarios and just more things to explore, and it's awesome. The things they're working on are really cool."
Here's how Infinite's theoretical live campaign could work: there's a set story arc that you play through like normal, and once beaten, you can connect to the internet and download more chapters or even jump right in via levels hosted on Microsoft's cloud servers, sort of like Destiny. It'll be sort of like Spartan Ops, and there should be matchmaking or even a hub for player team-ups.
(Continued below)
That's not to say Halo: Infinite won't have offline elements. Even if it's a live game that merges multiplayer and campaign into a cohesive online-based union, you'll still be able to play without internet.
Sure Microsoft wants everyone online all the time because that's where the money is, but Infinite will still have offline four-player split-screen co-op and multiplayer, complete with custom games, Forge, and the other trappings gamers know and love. It'll also support LAN play and be fully optimized for PC with 4K 60FPS support and other optimizations for the platform.
The Microsoft exec goes on to say the Slipspace Engine will breathe new life into old-school Halo designs.
(Continued below)
The entire point of Infinite is to go back to the roots of Halo 1. It's a story built on hope and the studio wants to revitalize that beloved sci-fi mystery, awe, and action found in the original trilogy. It's a "spiritual reboot" but also a sequel, and that means soul-searching and discovering what made the original games great...and putting those things into Halo 6.
"The second thing is, as they bring the Slipspace Engine up to date with enhance graphics. There's some really cool stuff design-wise--it's been great seeing them get back to some of the shape and design language of the earlier Halo games. It could be said that maybe when you get into Halo 5 it was getting a little busy design-wise, and now with Infinite it feels more modern and more clean and there's stronger echoes back to the roots of Halo."
"Infinite will be visually impressive and more expansive," Matt asserted.
Halo: Infinite will release Holiday 2020 alongside Microsoft's next-gen Project Scarlett console, and will be the premiere AAA game leveraging the system's new Zen 2 CPU and Navi GPU architectures. Expect insane performance for console gaming, and to see Halo look and play better than ever before (well, except on PC that is).
Project Scarlett confirmed details:
Zen 2 CPU

Navi GPU

4x as powerful as the Xbox One X's 6TFLOPs of perf

Super-fast SSD that can be used as VRAM (likely PCIe 4.0)

Supports 8K resolution (likely media playback)

120FPS gaming

Can deliver up to 40x more performance than Xbox One in specific use cases

Raytracing confirmed

Backward compatible with Xbox, Xbox 360, and Xbox One games

Compatible with Xbox One accessories
Related Tags