Meteor SMASHES into Jupiter, so big we saw it from Earth
A meteor has smashed into Jupiter and the explosion was so big it was viewed from Earth.

Published Mon, Aug 12 2019 3:13 AM CDT
|
Updated Tue, Nov 3 2020 11:47 AM CST
Jupiter is simply massive and due to its size and gravitational pull a meteor has collided with the planet and the explosion was so big it was viewed from Earth.
Since Jupiter is so big, it's gravitational pull captures a lot of space debris including meteors that are abundantly floating around space. Astronomer, Ethan Chappel going under the guise of Chappel Astro on Twitter viewed the impact of the meteor and said "Today has felt completely unreal to me. Hoping someone else also recorded the impact to seal the deal."
Another group of astronomers estimated the meteors size, saying that the object was 16.5 feet to 65 feet in diameter and that meteors of this calibre collide with Jupiter between one and five times a month. Above we have a gif of the collision and we can see the impact in the bottom left hand corner of the gif. If you happened to miss last weeks news regarding Jupiter, the Hubble Space Telescope took the best image we have of Jupiter now, check that out here.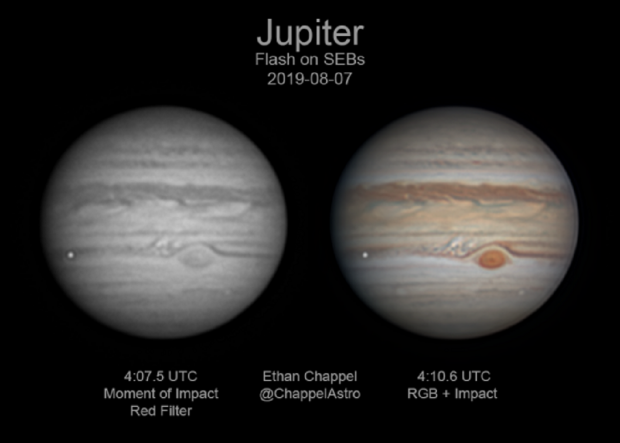 Related Tags