GTA Online, NBA 2K drive Take-Two's strong Q1'20 earnings
GTA Online's new casino update and NBA 2K19 drive $313 million from microtransactions.

Published Fri, Aug 9 2019 2:19 PM CDT
|
Updated Tue, Nov 3 2020 11:47 AM CST
Six years on from launch, GTA Online continues raking in consistent revenues for Take-Two Interactive, and NBA 2K19 is now the publisher's best-selling sports game.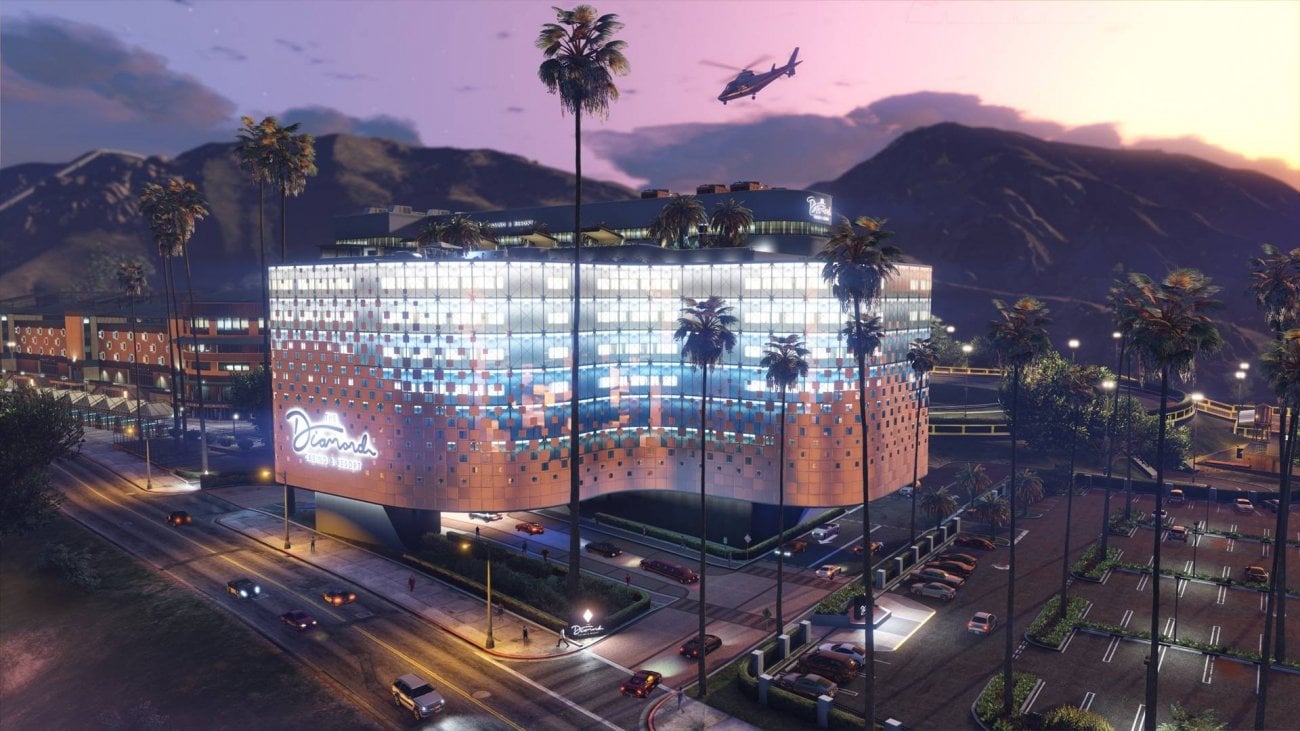 Take-Two Interactive just reported a strong start to its Fiscal Year 2020 timeline, kicking off Q1'2020 with growth in monetization, net revenues, and sales. GTA Online was a big driver for Q1 thanks to its new Diamond Casino update, which saw record player engagement to date, and the huge continued success of NBA 2K19. Digital was the leading force in Take-Two's Q1 performance, growing a massive 51% YoY to $428 million. Digital made up almost 80% of the company's total net revenues.
In the period from April 1 - June 30, 2019, Take-Two made $541 million in net revenues, up 40% year-over-year. Net bookings, or net sales, sits at $422 million, up a huge 46.5% YoY. Operating income is up an astronomical 809% from last year primarily due to Red Dead Redemption 2's heavy investment spend in 2019.
Recurrent consumer spending made up roughly 58% of total net revenues, which is par for the course thanks to the publisher's array of live services. Take-Two made $313.78 million from recurrent consumer spending (microtransactions) in the period, driven mostly by NBA 2K19 and GTA Online.
Again, all of this growth was strongly affected by GTA Online's new casino update, NBA 2K's breadth of services and engagement content, and reigniting Borderlands with a huge marketing promotional campaign ahead of Borderlands 3.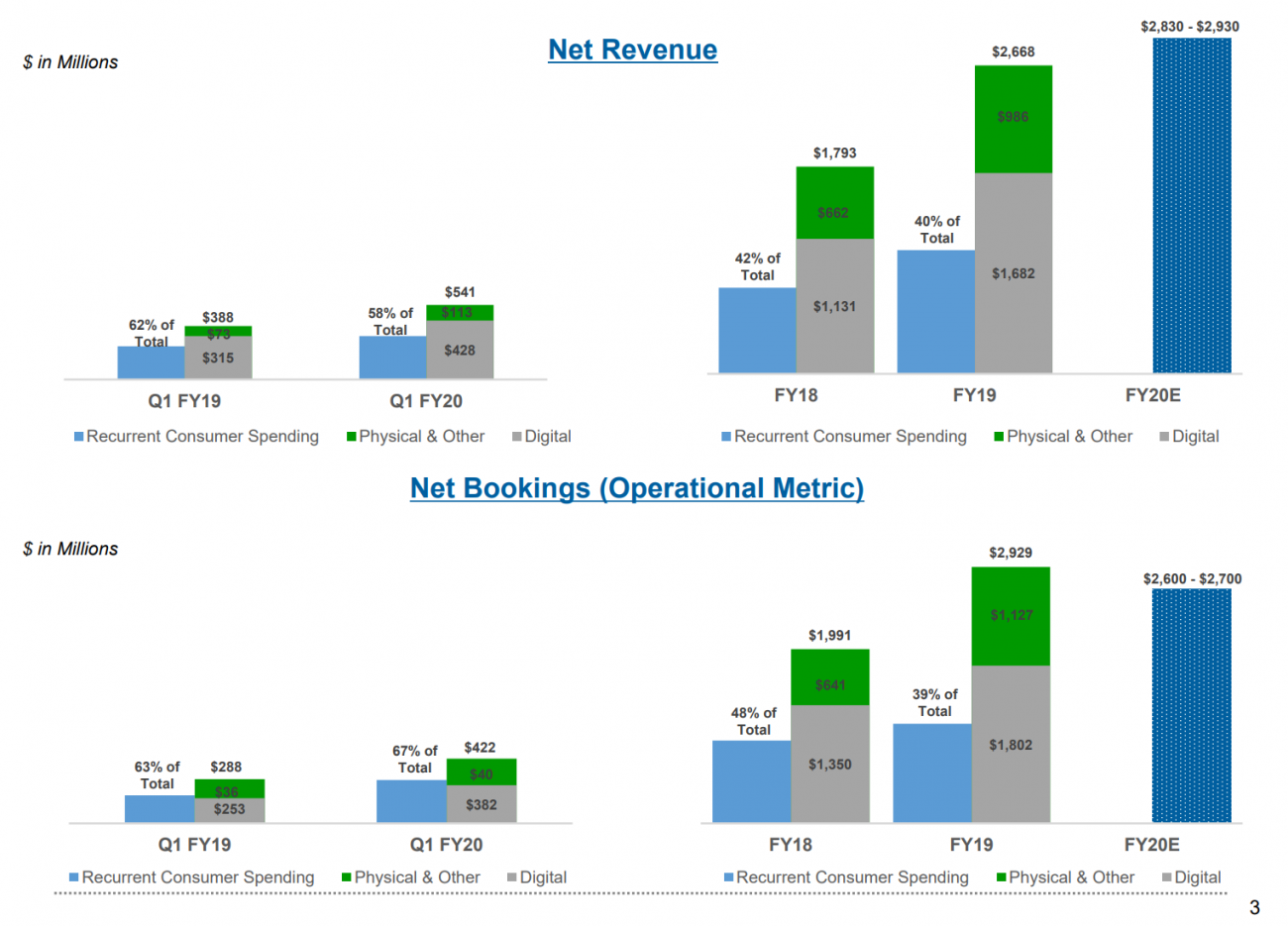 "As Strauss mentioned, fiscal 2020 is off to a terrific start with first quarter operating results that exceeded our expectations. Total net bookings grew 46% to $422 million, as compared to our outlook of $310 million to $360 million. This outperformance was driven primarily by better than expected results from Grand Theft Auto Online and Grand Theft Auto V, NBA 2K19 and the Borderlands franchise Recurrent consumer spending grew 55% and accounted for 67% of total net bookings, as compared to our outlook of over 20% growth," said Take-Two's Chief Financial Officer Lainie Goldstein.
"Recurrent consumer spending exceeded our expectations due primarily to the outperformance of Grand Theft Auto Online and NBA 2K. Digitally-delivered net bookings grew 51% and accounted for 91% of the total as compared to our outlook of over 20% growth.
"This result exceeded our expectations due the outperformance of recurrent consumer spending and higher that forecasted mix of digital-delivered full game sales. During the first quarter, 75% of current generation console games were delivered digitally, up from 53% last year."
Take-Two expects FY2020 to exceed last year's net revenue, which is pretty significant given Red Dead Redemption 2's huge success in FY2019.
The company forecasts to earn $2.830 - $2.930 billion from net revenues in FY2020, up roughly 8% from last year. Digital will be the main driver and microtransactions are only expected to make 40% of net revenues, an 8% drop YoY, hinting at a mix of game sales and mTX.
Net bookings will shrink quite a bit as Take-Two expects to sell less games this year, despite the incoming release of Borderlands 3, NBA 2K20, and Private Division games like The Outer Worlds. Net bookings are expected to fall in the $2.6 - $2.7 billion range, down 11.2% to 7.81%, respectively.
Related Tags