So ROBOTIC TAILS are now a thing, will improve your balance
If you thought we'd all be Iron Man by 2020, you were wrong - we'll have robotic tails instead.

Published Thu, Aug 8 2019 11:17 PM CDT
|
Updated Tue, Nov 3 2020 11:47 AM CST
If you thought by now we'd have flying cars, Moon bases and nanotechnology making us like Superman or something -- you know you're wrong. Your consolation prize? A robotic tail called the Arque.
Scientists from the Keio University Graduate School of Media Design have designed a robotic tail that makes us more of an animal-machine-human hybrid, and it could actually have a purpose in this world. The robotic tail was inspired by the grippy, curly end of a seahorse -- something instantly apparent.
The robotic tail uses spring-loaded joints that are connected to a vertebrae, packing pneumatic artificial muscles that run through the inside of it and allow for easy movement. An air compressor is used to actuate the muscles, which lets the robotic tail move in 8 different directions.
Arque could see the wearer's center of gravity changed as the tail would swing, like a real tail does on an animal, adjusting in real-time. There would be a body tracker worn by the robotic tail owner, that would estimate the center of gravity and then change the position of Arque in real-time. These changes could help with agility, balancing, and make someone walk with (more) ease.
It's not just the real-world application of Arque, but the virtual one as well since the tail could provide more realistic full-body haptic feedback, which would be perfect for VR. Having your balance altered in real-time with this attachment would be amazing, as you'd feel pressure with something forcing you back.
You could be pressing against another player in a boxing match and feel more of their weight pressed against you and the force of it pushing you backwards, or strong gusts of winds in a game where you're exploring a mountain range. The possibilities with VR could be endless.
So for someone with balance or back issues the robotic tail could be used to assist with balancing when standing for periods of time, and if more work is done to it I can see some Doc Oc-style use like we saw in Spider-Man 2.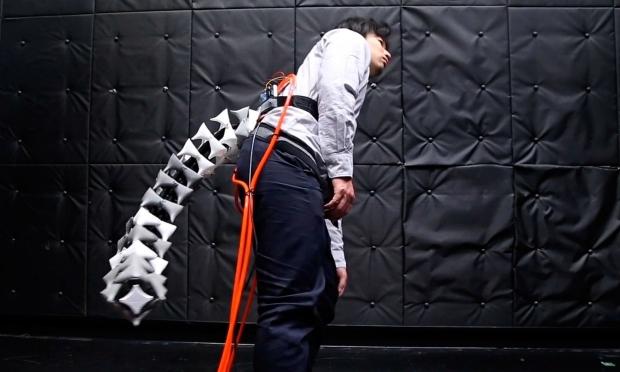 Related Tags