Borderlands 3 hits 1080p 60FPS or 4K 30FPS on PS4 Pro
Borderlands 3 has a performance and resolution mode on PS4 Pro.

Published Thu, Aug 8 2019 11:12 AM CDT
|
Updated Tue, Nov 3 2020 11:47 AM CST
PS4 Pro owners will be able to pick between better visuals or smooth 60FPS gunplay in Borderlands 3.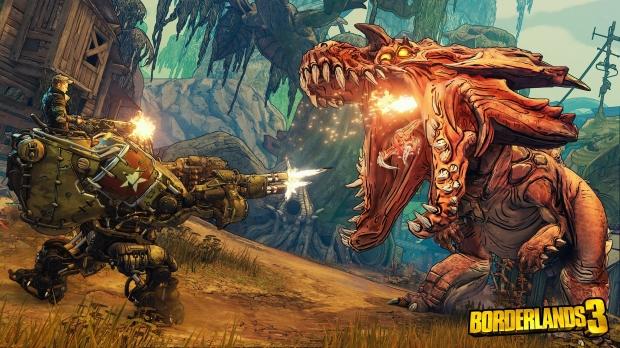 Sony's PS4 Pro isn't typically powerful enough to churn out native 4K gaming, let alone 4K 60FPS (the PS5 on the other hand...). Most PCs really can't handle that load either. So most big games have to choose between better performance at 60FPS or higher resolution with 3840x2160 resolution (usually checkerboard rendering, not native). And some like Borderlands 3 support both.
Gearbox confirms Borderlands 3 will run at 1080p 60FPS or 4K 30FPS on PS4 Pro, complete with HDR on FHD and UHD televisions. There was no mention of variable refresh rates for improved resolution, which is usually the trade off, but the 4K mode might see a few frame drops to ensure steady resolution. Gearbox also says Borderlands 3 will support the PS4 Pro's supersampling mode on 1080p HDTVs, which essentially raises image quality while typically dropping FPS.
Honestly I can't see anyone playing an enthralling multiplayer shooter like Borderlands 3 on any setting except 1080p 60FPS. Give me fluid frame rates over resolution any day.
Yes, players will be able to choose between "favor resolution" and "favor performance" on the PS4 Pro through a new setting called Graphics Preference. When "favor resolution" is selected, we aim for the highest resolution possible, capping framerate at 30 frames per second. In "favor performance" mode, we increase the framerate cap to 60 frames per second and render at 1080P.

One interesting note is that when favoring resolution on a TV that only supports 1080p, the game will supersample from the higher resolution using the console's hardware. Because of this, the 1080p output will look sharper in this mode than it normally would, again thanks to the power of the PS4 Pro.

This setting among many others is core to our goal to not only accommodate as many people possible but also to allow them to play the way they want to play.
Borderlands 3 releases on September 13, 2019 for PS4, Xbox One and PC via the Epic Games Store. It'll be on Steam in April 2020.
Check below for more info:
The original shooter-looter returns, packing bazillions of guns and an all-new mayhem-fueled adventure. Blast your way through new worlds and enemies as one of four brand new Vault Hunters, each with deep skill trees, abilities, and customization. Play solo or join with friends to take on insane enemies, collect loads of loot and save your home from the most ruthless cult leaders in the galaxy.

Key Features:

A MAYHEM-FUELED THRILL RIDE

Stop the fanatical Calypso Twins from uniting the bandit clans and claiming the galaxy's ultimate power. Only you, a thrill-seeking Vault Hunter, have the arsenal and allies to take them down.

YOUR VAULT HUNTER, YOUR PLAYSTYLE

Become one of four extraordinary Vault Hunters, each with unique abilities, playstyles, deep skill trees, and tons of personalization options. All Vault Hunters are capable of awesome mayhem alone, but together they are unstoppable.

LOCK, LOAD, AND LOOT

With bazillions of guns and gadgets, every fight is an opportunity to score new gear. Firearms with self-propelling bullet shields? Check. Rifles that spawn fire-spewing volcanoes? Obviously. Guns that grow legs and chase down enemies while hurling verbal insults? Yeah, got that too.

NEW BORDERLANDS

Discover new worlds beyond Pandora, each featuring unique environments to explore and enemies to destroy. Tear through hostile deserts, battle your way across war-torn cityscapes, navigate deadly bayous, and more!

QUICK & SEAMLESS CO-OP ACTION

Play with anyone at any time online or in split-screen co-op, regardless of your level or mission progress. Take down enemies and challenges as a team, but reap rewards that are yours alone - no one misses out on loot.
Related Tags