Doom's cheeky brutality was inspired by Evil Dead
Doom is bloody, brutal, and often humorous, taking queues from movies like Evil Dead.

Published Sun, Jul 28 2019 5:09 PM CDT
|
Updated Tue, Nov 3 2020 11:47 AM CST
Doom broke the mold for PC gaming as a whole, introducing the world to a demon-infested cataclysm of blood, hellish molten lava, and utter chaos. But as time went by it got more and more humorous, creating a mystique around the seemingly-immortal Doom Slayer.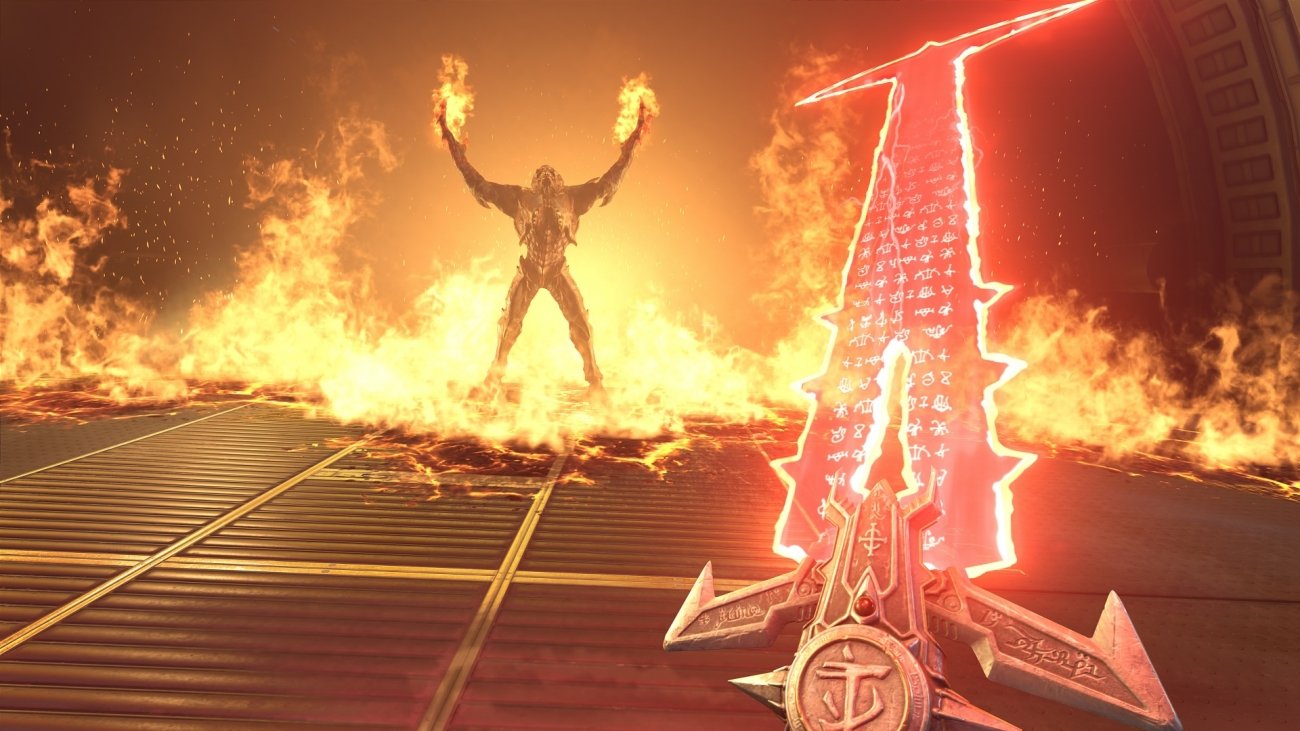 Today's Doom games really blend that ultra-brutality of the original series with a kind of hilarious tone that never takes itself too seriously. The games are always games first, putting entertainment above immersion and never let you forget you're playing a high-octane power fantasy. That was actually part of the design process from the start. According to Doom Eternal creative director Hugo Martin, id drew inspiration from Sam Raimi's darkly funny Evil Dead horror movies.
"We met Adrian Carmack a bit ago along with the team, and he told us that we can't take Doom too seriously. 'Evil Dead, that was a big inspiration for us,' he said," Hugo Martin said during a QuakeCon 2019 panel. "We've been studying the things they were interested in from the beginning but it's just those little elements have to be in place to make something that special that resonates with people."
Read Also: Doom Slayer is Michael Myers mixed with Terminator, id says
Martin goes on to say id won't ever compromise the core tenants of the Doom franchise.
It'll always be about slaughtering demons first and foremost and creating that distinct otherworldly canvas for unleashing total havoc. We won't see Doom suddenly go too immersive or story-based or take itself too seriously--it's always going to be about jumping into Doomguy's shoes and blasting hordes of monstrosities.
Even in today's age of live service games, monetization, and watered-down experiences, id doesn't want to jeopardize the authenticity of the Doom franchise.
"We don't want to embarrass the Doom name. But that's probably the thing I find most fascinating about it is to just analyze it from a design perspective, really what makes it tick. I think it taps into something that we all have in us. Even the name id, there's like this primal urge to unleash aggression onto the world, and id games give you a kind of avenue way to do that.
"And that's never going to change. People always want to just be Doomguy and that kind of a power fantasy is in all of us," Martin said.
"I think it connects with people on multiple fronts which is really hard to do."
Doom Eternal rolls out on November 22, 2019 on PS4, Xbox One, Switch and PC.
Check below for more info about the game:
GAME DESCRIPTION:

Developed by id Software, DOOM® Eternal™ is the direct sequel to DOOM®, winner of The Game Awards' Best Action Game of 2016. Experience the ultimate combination of speed and power as you rip-and-tear your way across dimensions with the next leap in push-forward, first-person combat. Powered by idTech 7 and set to an all-new pulse-pounding soundtrack composed by Mick Gordon, DOOM Eternal puts you in control of the unstoppable DOOM Slayer as you blow apart new and classic demons with powerful weapons in unbelievable and never-before-seen worlds.

As the DOOM Slayer, you return to find Earth has suffered a demonic invasion. Raze Hell and discover the Slayer's origins and his enduring mission to rip and tear...until it is done.

FEATURES:

Slayer Threat Level at Maximum

Gain access to the latest demon-killing tech with the DOOM Slayer's advanced Praetor Suit, including a shoulder-mounted flamethrower and the retractable wrist-mounted DOOM Blade. Upgraded guns and mods, such as the Super Shotgun's new distance-closing Meat Hook attachment, and abilities like the Double Dash make you faster, stronger, and more versatile than ever.

Unholy Trinity

You can't kill demons when you're dead, and you can't stay alive without resources. Take what you need from your enemies: Glory kill for extra health, incinerate for armor, and chainsaw demons to stock up on ammo. These tools are the key to your survival and becoming the ultimate demon-slayer.

A New Class of (Destructible) Demon

Obliterate more demons than ever before, each with unique attacks and abilities. Fan-favorite classics such as the Pain Elemental, Archvile, and Arachnotron make their return, while a horde of totally-new demons join the roster including the DOOM Hunter, Marauder, and the Gladiator. Rip apart your favorite demons to the core with DOOM Eternal's "destructible demons" system and take your power fantasy to new levels.

Demonic Invasion Detected

As the Slayer, allow other players to invade your campaign as demons for a dramatic and unpredictable twist anytime you're playing the campaign. Or be a demon and invade other players' campaigns either by yourself or with someone else to give the Slayer a true taste of Hell.

Enter BATTLEMODE

BATTLEMODE is the new 2 versus 1 multiplayer experience built from the ground up at id Software. A fully-armed DOOM Slayer faces off against two player-controlled demons, duking it out over three rounds of intense first-person combat. More details coming soon!
Related Tags