Userbenchmark adjusting CPU 'rankings', pandering to Intel?
Userbenchmark changes their CPU rating algorithm to push huge focus on 1T performance while nerfing nT performance because 'Ryzen is too fast'

Published Sun, Jul 28 2019 2:26 PM CDT
|
Updated Tue, Nov 3 2020 11:47 AM CST
Userbenchmark has been a quite long-standing way for novice users to find which hardware would be the best by placing a direct comparison between models in their integrated benchmark database. Some of you may not know anything about Userbenchmark, but it is wise to get to know them. This is because while many experienced users pay them no mind, Userbenchmark has made themselves a huge SEO trap for novice users who are simply seeking a quick way to tell which hardware is the best.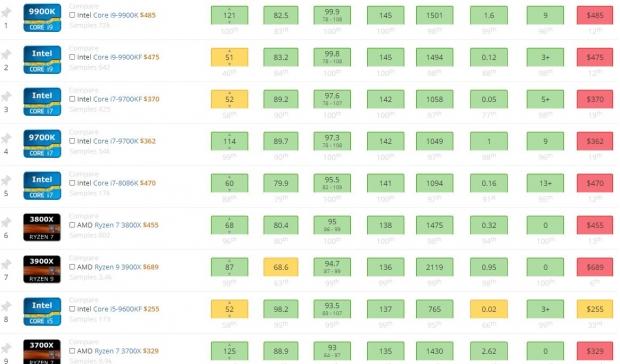 Here we see the crux of the problem when sorting based on the CPU's 'speed rank'. You can see that the top 5 spots are dominated by Intel products. This in itself is not really the whole story as we have to go a bit deeper to understand what actually happened. Some good reporting from the team over at WCCFTECH shows how the rules have changed on how CPUs are represented in their speed rank calculation.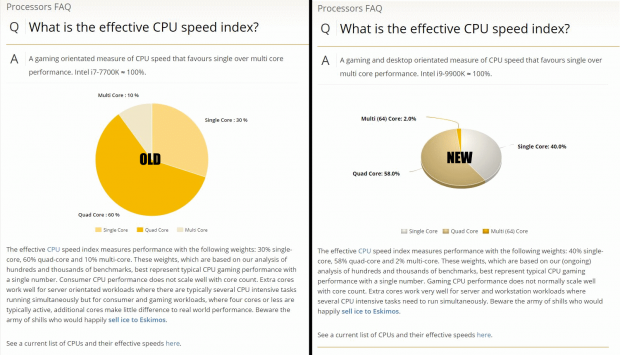 Here you see that the previous rating was split with 60% of the score being tests of quad-core level performance, while the single-core comes in at 30% and higher than quad-core labeled 'multi-core' being 10%. Now we move right and find that the scoring has been adjusted as follows. Quad-core level performance drops to 58%, single-core jumps to 40%, while the multi-core falls to a mere 2%. This would make sense several years ago when frequencies were still growing, but now that it is increasingly more difficult to increase frequencies, scaling in cores has been having over the past 3+ years. I guess you could say that since Ryzen came onto the scene it has started the shift to many more cores on consumer-level CPUs.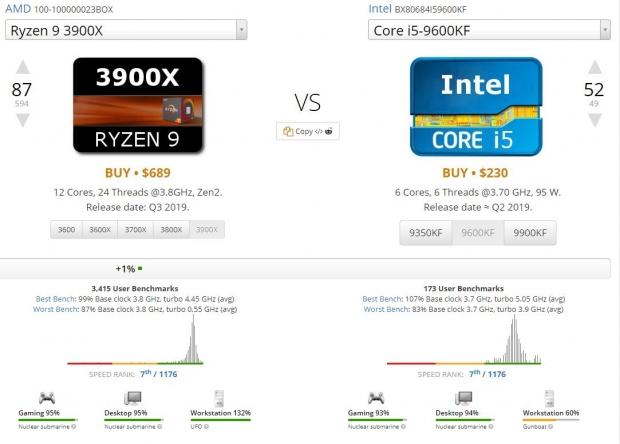 Here we see a comparison I just performed at the time of writing and the Core i5 9600KF scores a similar speed rating as a 3900X. This is a 6-core/6-thread non-hyperthreaded part running at a 3.7GHz base versus an AMD 12-core/24-thread Zen 2 part with a base clock of 3.8GHz. In what world would a user be considering a 3900X or an i5 9600KF? Just looking at the results has me scratching my head as the 3900X beats gaming and desktop performance per their own results while also beating the 9600KF by over double in the workstation testing.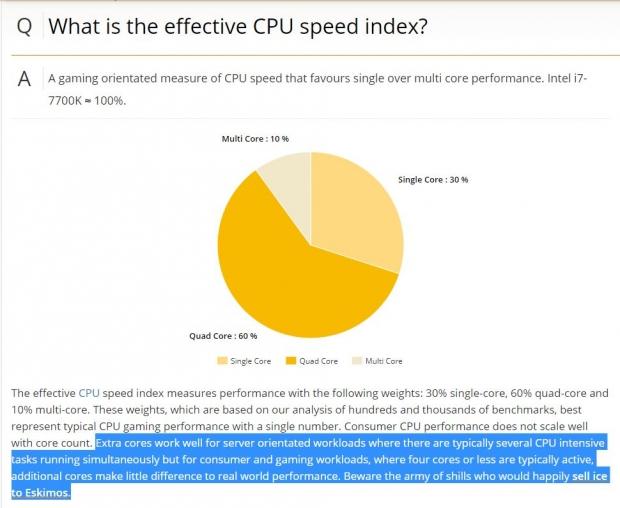 With that being said, Userbenchmark has addressed the concerns via their update FAQ and while the update helps clear up their stance, I do have to say my BS-O-Meter is jumping off the charts as they take a very defensive and confrontational tone with their explanation for their adjustments. I guess this is as good of a time as any to mention that no qualified journalist we know of uses Userbenchmark for any of their review coverage or testing and that is likely for a very good reason.
In closing, let's take a bit of Userbenchmark's own advice and seek quality and qualified reviewers results such as the coverage you find here at TweakTown or other trusted media outlets, rather than a 'benchmark' (it hurts me to call it that), that can be adjusted willy-nilly, especially if 'Ryzen is just too fast' is an acceptable reason to nerf the bench results.
Related Tags