DOOM Eternal's new Battlemode gameplay shown off at QuakeCon
QuakeCon 2019 day 1: DOOM Eternal's new Battlemode, and new 'DOOM Hunter' demon teased.

Published Fri, Jul 26 2019 10:22 PM CDT
|
Updated Tue, Nov 3 2020 11:47 AM CST
DOOM Eternal has just received a bunch of new footage and details from the first day of QuakeCon 2019, with the new Battlemode teased and in the video below. Battlemode will see a fully-loaded DOOM Slayer battling two demons controlled by other gamers... check it out:
Battlemode will see the fully-loaded DOOM Slayer fighting two human-controlled enemies that can choose between different demons, each with their own respective powers and strengths. There will be 6 maps in total, 5 different demons, and Bethesda has said there will be plenty of post-launch maps and new demons coming to Battlemode, FOR FREE.
The 5 demons at launch will be:
Revenant - One of the most versatile and agile of the demons. His jetpack and dash allow the player to move quickly through the environment. His shoulder-mounted rockets deliver consistent firepower, while his special attack - a targeted rocket barrage - delivers heavy long-range damage.
Pain Elemental - His ability to fly gives him a bird's eye view, making it easier to track the Slayer, but that makes him more vulnerable when he's not using his rechargeable Soul Shield.
Mancubus - Big, beefy, and badass. He's got heavy cannons, flamethrowers, and tons of health, all of which make him lethal in a close-quarters fight. While he's not the most mobile demon, his smoke bombs can obscure his position or flush out the Slayer.
Arch-Vile - A description wasn't provided for this one, but like the classic enemies, he looks to wield fire-based attacks.
Marauder - Is that you, Shao Kahn?
DOOM Eternal will take us back to Hell on November 22, 2019 on the Xbox One, PS4, and PC.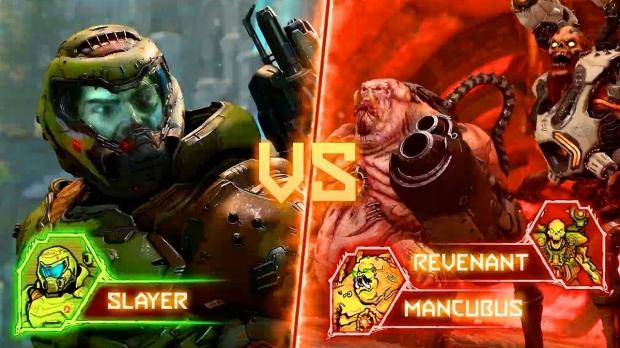 Related Tags