Keanu Reeves is almost a 'second protagonist' in Cyberpunk
We'll be seeing a lot of Keanu Reeves in Cyberpunk 2077.

Published Thu, Jun 13 2019 12:43 PM CDT
|
Updated Tue, Nov 3 2020 11:48 AM CST
E3 2019 - Keanu Reeves will be a huge part of Cyberpunk 2077's storyline. In fact, CDPR says he's almost like a second protagonist.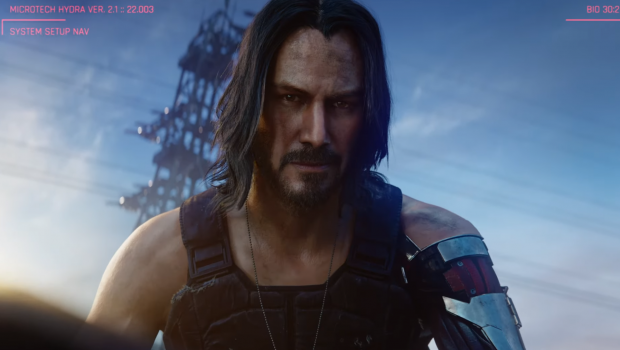 Keanu isn't just a star cameo in Cyberpunk 2077. As Johnny Silverhand, ex-rocker of Cyberpunk's most notorious band the Samurai, Keanu will play a pivotal and expansive part in CD Projekt RED's new sci-fi opus. The sultry surfer bro turned murderous assassin will be with you for most of the game. "It's definitely not a cameo. Johnny is one of the main characters in the game. You could even say he's like a second protagonist almost," CD Projekt RED quest director Mateusz Tomaszkiewicz said in a recent interview with YongYea.
"You'll interact with him throughout the majority of the game and a lot of the plot revolves around him. He has a complicated relationship with V and you can form this relationship in different ways based on how you play throughout the game."
"I would say his role is pretty significant, and he has a lot of lines."
(Continued below)
According to Tomaszkiewicz, Keanu signed up about a year ago to play the rocker-turned-anarchist. The dev goes on to explain Johnn Silverhand's personality as a cyborg guerrilla fighter and how Keanu was a great selection for the role.
"Johnny is basically a rebel, he's a character of principal, he stands for an idea. In this specific case the idea is opposition to the big corporations that're ruling Night City that built this oppressive system that grinds people up. Keanu has a long history of playing characters who stand for an idea and fight for it, so for us it was a perfect pick."
Johnny Silverhand will be just one of the NPCs drawn from the classic tabletop game that help guide and shape your playthrough in Cyberpunk 2077. CDPR has built a world with living, breathing cities and real-time AI, along with a dynamic reactive consequence system that constantly shifts the world and its characters based on your decisions.
Your interactions with Keanu--and anyone and everyone you meet--will likewise be directly affected by your choices throughout the game.
We're betting if you're too murderous or too scummy that Johnny will berate you and not offer as much help as if you were a paragon who chose to avoid killing. CD Projekt RED also confirmed you can beat Cyberpunk 2077 without killing anyone.
Cyberpunk 2077 releases on April 16, 2020 on PS4, Xbox One and PC.
Related Tags