Obsidian's new RPG The Outer Worlds blasts off in October
Obsidian drops new Outer Worlds trailer launch date, and details.

Published Wed, Jun 12 2019 7:14 PM CDT
|
Updated Tue, Nov 3 2020 11:48 AM CST
E3 2019 - Obsidian's new planet-hopping RPG shooter releases in October, just in time for the holiday season.
Obsidian's fresh RPG The Outer Worlds is a lot like Fallout: New Vegas in space, and incorporates lots of classic Fallout themes and mechanics. As well it should, since the project is being developed jointly by Fallout creators Tim Cain and Leonard Boyarsky. We didn't get a lot of new info at E3 2019, but Obsidian dropped a new trailer along with an October 25, 2019 release date.
A bit of new gameplay footage was released, showing some fluid FPS gunplay and an artistic style that blends No Man's Sky's colorful worlds with BioShock's style and Fallout: New Vegas mechanics. Speaking to IGN, Leonard Boyarsky did reveal some Outer Worlds tidbits like have the freedom to kill anyone in the entire game.
"That's always been our goal. To let the player choose the character they want and play the character any way they want and have the game react to it," Boyarsky said.
As for the size and scope of the game, The Outer Worlds takes place on two major planets. But they'll be pretty meaty worlds with lots of stuff to uncover, fight, and interact with. The game isn't open world but Boyarsky says each location will have lots of multi-faceted depth.
"We really like to add a lot of depth to the worlds. I feel that's really the fun part of it, digging into these worlds and finding out what's going on, hearing different NPCs talking about the worlds and finding out what's going on."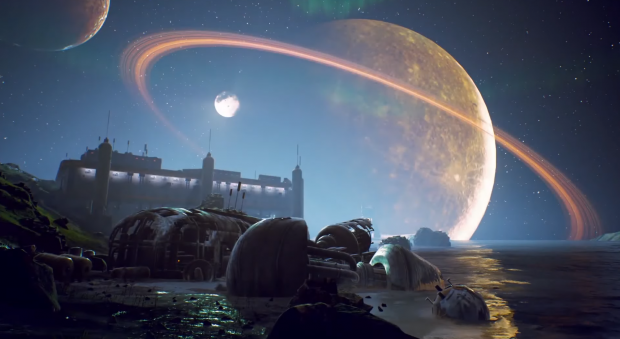 The dev also talked about the shooter's time-dilation system, which is basically The Outer Worlds' version of VATS.
"It feels a lot like a first-person shooter, but we also have tactical time dilation which is a side-effect of you being in hibernation for so long and possibly how the scientist revives you. It lets you slow down time strategically, and you can also see weak spots on your enemies. If you perk it up, you can also extend the length of it and you can move faster while everyone moves slower. You can also perk up location shots, so if you shoot someone in the leg they limp and are less effective in combat."
The Outer Worlds release on October 25 on PS4, Xbox One, and the Epic Games Store and Microsoft Store on PC.
Here's a few more tidbits and updates we found on The Outer Worlds:
Time dilation (like VATS from Fallout) is a superpower gained by extended cryo-sleep

Enemies can be blinded, and even stunned by shooting them in the crotch

Companions interject in conversations, won't always like your decisions, react to other NPC dialog

Companions have assigned AI roles

Explorable, but not massive like open-world games

Two major worlds, players will land on asteroids and other areas

Terminal hacking straight out of Fallout

No expansions planned right now, but they could happen

No vehicles, on-foot on every planet

You can kill anyone and everyone in the game

Character creator confirmed

You can equip any armor you pick up, and equip companions with gear

Power armor shown in the trailer
Related Tags