Google Stadia requires 35Mbps internet for 4K 60FPS
Google outlines internet speed requirements for its new Stadia game streaming service.
Published
3 minutes & 18 seconds read time
Google Stadia's internet requirements aren't necessarily steep, but they might not be totally accurate either.
Google recently revealed the bandwidth requirements for its ambitious new Stadia game-streaming service, confirming some surprising results. The service has something for most types of internet speeds, and users with 5-10Mbps can skate by with 720p 60FPS gaming. Google says playing games at 4K 60FPS on its cloud-based service will require 35Mbps, whereas 1080p 60FPS will need at least a 20Mbps connection.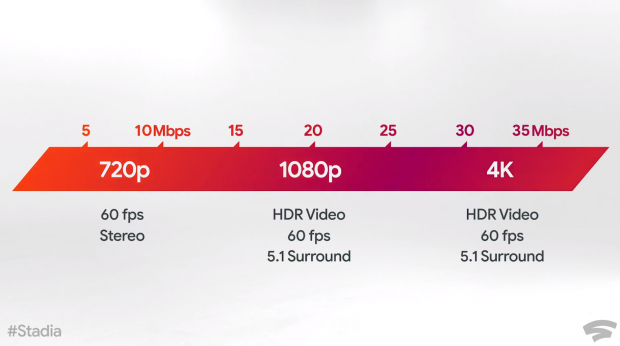 This sounds all good and well, but there's just one problem: Google's own Stadia speed testing site may not accurately gauge the full might of your connection. I saw lots of reports that Stadia's test site gave back wildly inaccurate readings, telling people their internet wasn't up to snuff irregardless of what other speed trackers said. I tested this out by running Speedtest.net and then a similar connection verification on Stadia's site. The results were pretty different.
First up the Speedtest.net results which say my network sits at 54Mbps download speeds via a wired ethernet connection directly to my PC.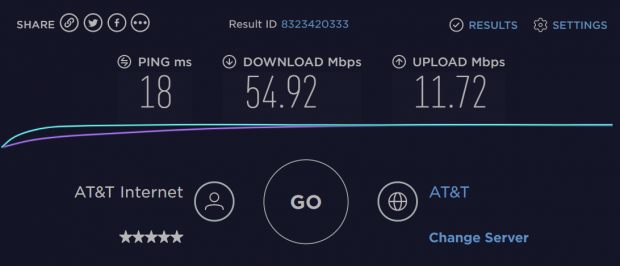 Then we have Google Stadia's results, which say I'm running 28Mbps on the same type of connection. That's a big disparity.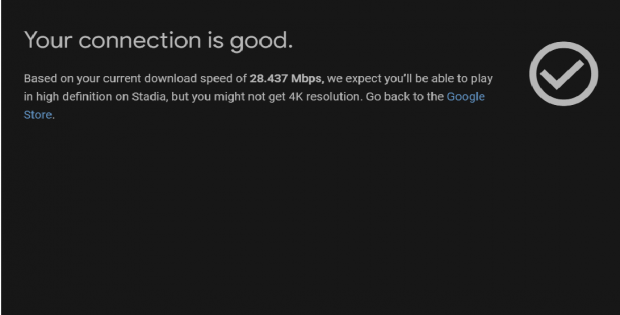 "The latency and speed demands of online gaming aren't far off from what we've been delivering for years. We handle the backend so you can play the games you want when you want on devices you own," Google's Phil Harrison said in a recent stream.
Honestly I don't see many people actually using Stadia for 4K 60FPS gaming anyway. According to some quick number-crunching from PC Gamer, Stadia could chew through 1TB of data in just 65 hours of play. Most users will probably stick to 1080p 60FPS so they don't absolutely annihilate their monthly data cap.
Google also talked about what devices are compatible with Stadia. Laptops and PCs running Google Chrome can natively play Stadia games right in the browser, but to play on a TV you'll need a Chromecast Ultra (about $70). When Stadia launches in 2019 it'll only run on Pixel 3 smartphones, too, but other devices will be rolled out soon.
As for games and content, Stadia has signed on some of the biggest publishers in the business. Huge titles like Destiny 2, The Division 2, Ghost Recon: Breakpoint, Assassin's Creed: Odyssey, Borderlands 3, Final Fantasy XV and Baldur's Gate 3 are all coming to the service.
There's a catch when it comes to games, though. Stadia will have a forked approach instead of just offering games in a set pool. It'll sell games a la carte and bundle them together in a $10-a-month Stadia Pro subscription.
Stadia is expected to launch "later this year" across 14 countries
Check below for pricing information:
Stadia Launch Games
Baldur's Gate 3

Borderlands 3

Ghost Recon: Breakpoint

Gylt

Get Packed

The Division 2

The Crew 2

GRID

FM

Power Rangers: Battle for the Grid

Mortal Kombat 11

Farming Simulator 19

The Elder Scrolls Online

Darksiders: Genesis

Trials Rising

Wolfenstein: The New Order

Just Dance

Thumper

Shadow of the Tomb Raider

Dragonball Xenoverse 2

Final Fantasy XV

RAGE 2

Samurai Showdown

Metro Exodus

Assassin's Creed: Odyssey
Stadia Pro: $10 a month
Three months included in Founder's Edition.

Part of Founder's Edition

Resolution: Up to 4K

Frame rate: 60 FPS

Sound: 5.1 surround sound

Buy games whenever you want: Yes

Additional free games released regularly: Yes, starting with Destiny 2: The Collection

Stadia Pro-exclusive discounts on select game purchases: Yes

$9.99 / mo
Stadia Base: FREE
Coming next year

Resolution: Up to 1080p

Frame rate: 60 FPS

Sound: Stereo

Buy games whenever you want: Yes

Additional free games released regularly: No

Stadia Pro-exclusive discounts on select game purchases: No

Free
Stadia Founder's Edition $129
First access to Stadia

Chromecast Ultra

Limited Edition Stadia controller

3 months of Stadia Pro access + 3 months of friend access

Full Destiny 2 experience
Related Tags