Computex 2019 - Where do I even begin with ADATA, as it really felt like 'alright this has to be it' when I'm being walked around their gigantic booth in the halls of Nangang... but it kept going. Quality product to quality product, most blinged out with RGBs and an amazing gaming pod that I need want to take home.
Gaming on a super-ultra-wide gaming monitor, in a game that ADATA reached out to the developer for to get their pod into the game so it felt more lifelike. The gaming desk is adjustable once you get into the pod, and pushes up closer to the screen when not needed. If that pod had been moving with the pod in the game, I would not have gotten any other work done as I would've planted myself there for the entire day.
As you can see a gaming RIG is secured at the back of the gaming pod, blinged out with some ADATA RGB-infused cooling and DDR4 RAM.
First up, check out some of the new PCIe 4.0-based NVMe SSDs that ADATA were showing off. Here we have the next-gen SSDs capable of 3000MB/sec writes and 4000MB/sec reads (so 3GB and 4GB/sec... insane) and available in up to 8TB capacities.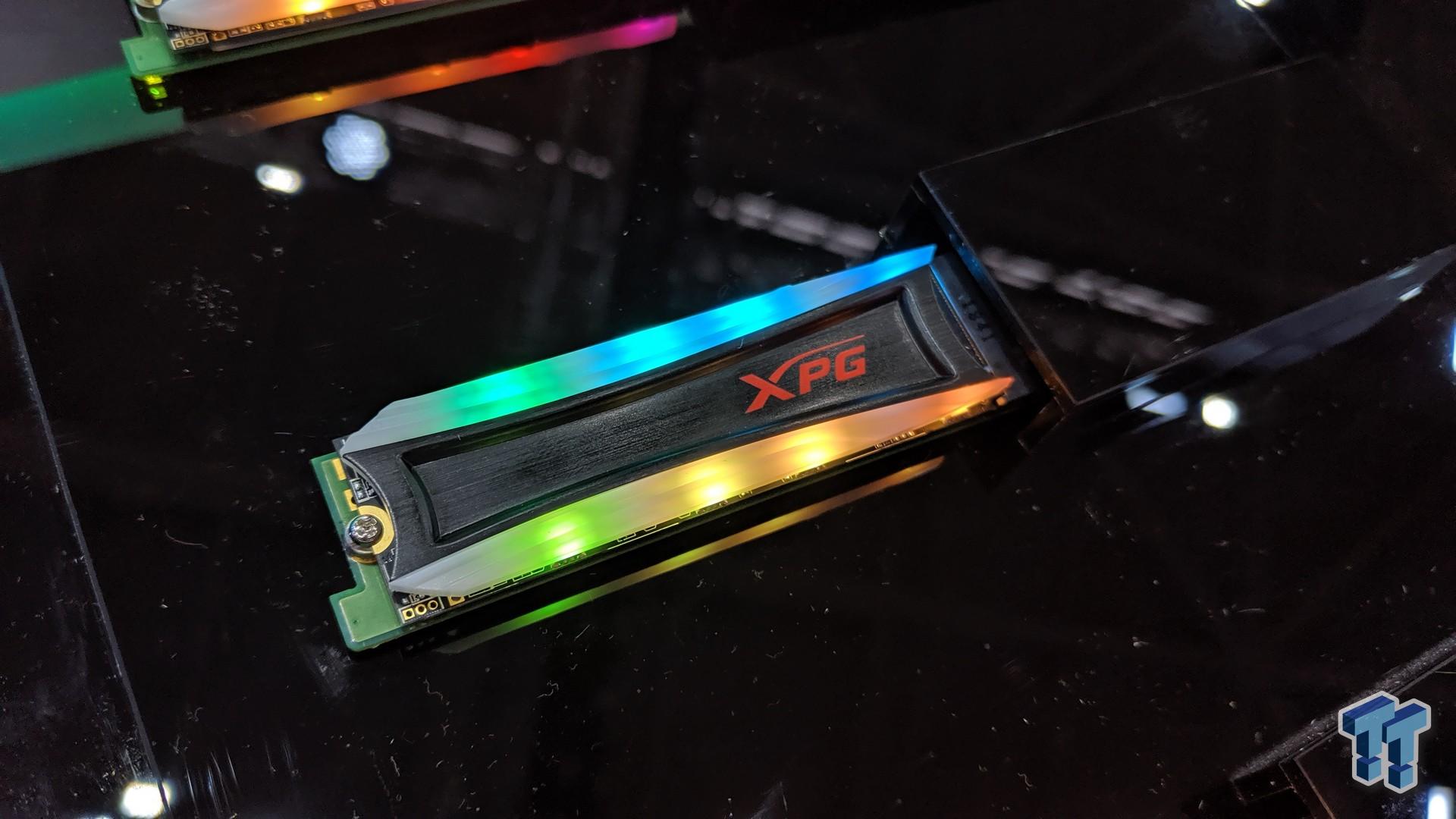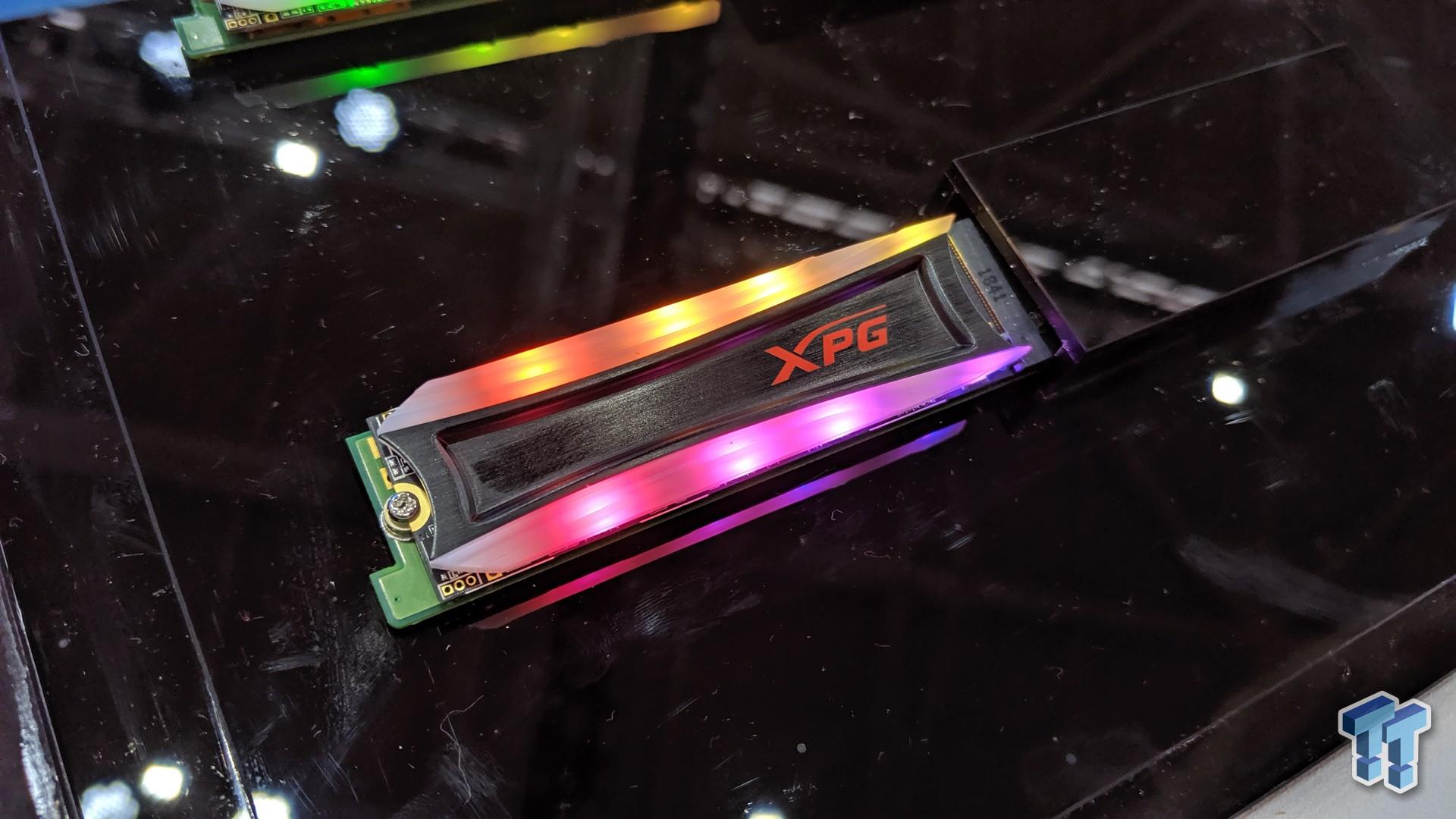 ADATA also had its SPECTRIX S40G RGB M.2 2280 SSD, with PCIe 3.0 x4 support and speeds of up to 3000MB/sec write and up to 3500MB/sec reads. RGB is also thrown into the mix, with capacities of 256GB, 512GB, and 1TB.
Next up we have the ADATA HD830, an external HDD that can handle an insane 3000kg of high pressure resistance... yeah, you can drive a car over it and it'll be fine. It has military-grade shock resistance with ADATA drop testing it from 1.22m, beyond IPX8 waterproof and can survive in up to 2m of water for a good 2 hours. It'll be available in 2TB, 4TB, and 5TB capacities.
ADATA also has some great super-small external SSDs in the SE800 range which offer up USB 3.2 Type-C Gen2 connectivity, with speeds of up to 1000MB/sec. We have IPX8 waterproof goodness here with ADATA testing up to 1.5m for 30 minutes, with military-grade shockproof also in the SE800 mix. We have 512GB, 1TB, and 2TB capacities on offer here.
One of the more gorgeous things at ADATA's huge booth at Nangang was their SPECTRIX D80 RGB DDR4 Liquid Cooling Memory, which looks absolutely awesome. Even more so in person. We have speeds of 2666-4133MHz on offer and support for both Intel and AMD platforms. The hybrid liquid-air cooling DDR4 RGB RAM lighting is tweakable through ADATA's own XPG RGB Sync app, and other software.
The ADATA HD770G is an RGB durable external HDD, with it being the world's first durrable HDD with 16.8 million colors of RGB lighting. We have military-grade shock resistance once again with ADATA drop testing at 1.2m, and IPX8 waterproof at up to 2m of water for 2 minutes, and totally protected against any and all dust. It will come in 1TB and 2TB capacities.
ADATA was also showing off their new RGB cables for PSUs, which looks really good here in between an XPG AIO cooler.