Minecraft Earth AR game brings voxel building to real life
Microsoft takes aim at Pokemon Go's billions with new Minecraft AR mobile game.

Published Sun, May 19 2019 2:21 PM CDT
|
Updated Tue, Nov 3 2020 11:48 AM CST
Minecraft is coming to the real-world with a new AR mobile game that chases Pokemon GO's huge earnings.
On Minecraft's 10 year anniversary, Mojang announced Minecraft Earth, an ambitious new ARG that turns everyday environments into voxel playgrounds. Users can build creations in a secret AR layer on our world, making it a kind of pocket within our reality for dazzling constructions and interactive adventures. Survival will also be a big part of the game and players will take on infamous baddies like creepers and more as they trek across the pixellated wilderness.
Minecraft Earth is built on four main principles that involve social engagement in the AR and real-world space: create, collect, collaborate, and explore.
CREATE- Minecraft has always been a game about creativity, but Minecraft Earth gives you the chance to express yourself on a whole new scale. Share your masterpieces and delve into others' creations!
COLLECT- Minecraft Earth features many of the mobs you know and love, along with a bunch of new ones. Over time, you'll get the chance to breed unique variants, and use them to populate your builds.
COLLABORATE- Meet up with like-minded crafters and create masterpieces together. Work on a smaller scale with friends before taking your builds out into the wild at full size. You can even team up with others for mini-adventures!
EXPLORE- Your real-life neighborhood takes on a whole new dimension thanks to Minecraft Earth. Gather resources, take on challenges, and share your imagination with others. There's a whole new world to discover!
Of course as a free-to-play game, Minecraft Earth will be monetized strongly. Even the original base Minecraft is monetized with optional in-game purchases, falling in line with Microsoft's focus on live service engagement. This new AR game should be a huge new opportunity for expansive earnings for both Mojang and Minecraft.
A beta for Minecraft Earth is due out this summer on iOS and Android. Check below for more details: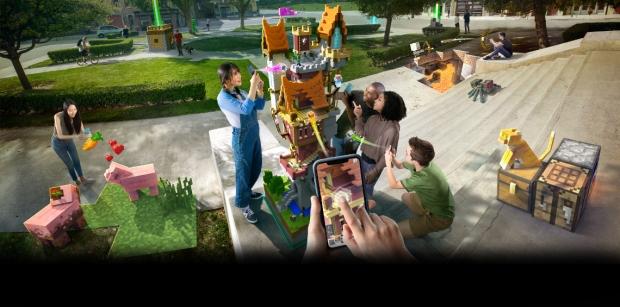 WHAT IS MINECRAFT EARTH?

Minecraft Earth is an all-new augmented reality game you can play on your mobile devices that brings the Minecraft world into our universe! Through the lens of the game, you'll be able to build creations with friends and place them in the real-world at life-size. You'll discover exciting new mobs to use in your builds. And you may need to put your survival skills to the test as you explore a new side to your neighborhood and battle Minecraft mobs in real life!

HOW MUCH WILL MINECRAFT EARTH COST?

Minecraft Earth will be free to play.

WHICH PLATFORMS WILL MINECRAFT EARTH BE ON?

Minecraft Earth is coming to iOS and Android this summer on AR-capable devices. We'll have more to share soon.

HOW DO I GET INTO THE MINECRAFT EARTH BETA?

The closed betas for Minecraft Earth will be launching this summer on iOS and Android. As with all betas, the number of participants will be limited but we anticipate it rolling out to hundreds of thousands of players. Players must be 18 or older to participate. You can sign up for the opportunity to join here.

WHEN WILL I GET THE MINECRAFT EARTH SKIN FOR SIGNING UP FOR THE BETA?

You will receive an email with instructions on how to claim your free skin within 24 hours of registration.

WHAT REGIONS WILL MINECRAFT EARTH BE SUPPORTED IN?

We're committed to bringing Minecraft Earth to the entire Earth but will roll the game out gradually to ensure everyone gets the best play experience. Minecraft Earth will support all the same languages as regular vanilla Minecraft.

WHEN WILL MINECRAFT EARTH BE RELEASED?

Minecraft Earth will be available in closed beta this summer.

WHAT ABOUT PLAYER SAFETY?

We take safety seriously and are taking measures to make Minecraft Earth an enjoyable and reliable experience for all our players. Players and parents will be able to use Account Management to adjust safety and privacy settings. A reporting system will allow players to report any concerns in-game and on our website. In addition, we will also have a moderation team working 24/7 to manage and respond to reports.

THE SIGN UP FORM IS ASKING FOR A LOT OF DATA. WHAT WILL YOU DO WITH IT?

We'll use your email address to send you your free skin and communicate updates about the game, including any beta programs. We'll use the other data to help us determine candidates for any beta programs we might launch.
Related Tags