Activision live service earnings drop by $200 million
Activision's monetization revenues dip by 20% year-over-year as it pivots to a new plan.

Published Sat, May 4 2019 11:27 PM CDT
|
Updated Tue, Nov 3 2020 11:48 AM CST
One of the biggest names in gaming suffers a rare monetization slip, but it's reinvesting strongly into more engagement-driven business models.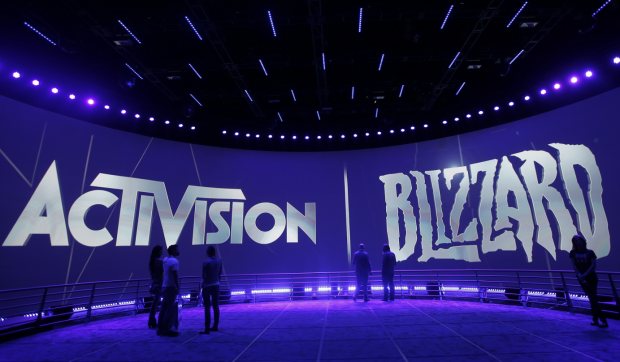 Activision-Blizzard may be hitting a monetization ceiling in its biggest games. Every quarter, the company makes hundreds of millions from Games-as-a-Service style tactics like microtransactions, DLC, and subscriptions. These revenues typically pull in a huge portion of digital earnings. But this latest quarter showed a rare drop both in total live earnings and the proportion of game sales to service-generated revenue.
The company's Q1 2019 earnings weren't particularly impressive. Total revenues, digital revenues, operating income and even net income were all down from last year. Given Activision-Blizzard's emphasis on live gaming, dgital is the most interesting of these dips. Digital comprised 76% of total net revenues, or $1.38 billion, down roughly 4.6% from 2018's first quarter. Digital includes microtransactions, subscriptions, DLC, and digital game purchases. The company says it pulled in $800 million from in-game purchases like skins and lootboxes, which means for the first time in a long time live service earnings were down. Microtransactions only made 58% of digital revenues this quarter, compared to the 68% split in Q1'18.
Activision-Blizzard's Q1'19 in-game net bookings were down 20% from Q1'18's massive $1 billion, representing a $200 million or 20% year-over-year decrease.
Activision-Blizzard Q1'19 earnings-at-a-glance
Total revenues: $1.825 billion, down 7.1% YoY
Digital revenues: $1.38 billion, down 4.6% YoY
Operating income: $570 million, down 4.2% YoY
Total costs and expenses: $1.255 billion. down 8.3% YoY
Net income: $447 million, down 4.6% YoY
Profit margin: 24%
A day after the earnings were posted, Activision stock dived by 6.7% to $46.50. Share prices have since stabilized at $47.15.
This drop comes at an interesting point in time for the billion-dollar games-maker. Activision is currently going through a big restructuring plan which sees re-investment into core franchises like Call of Duty, Overwatch, and World of Warcraft, as well as heavy acceleration of new games development projects.
In 2018, the publisher fired 800 non-game development employees and plans to re-allocate revenues from those positions into game development. By firing 8% of staff in what it considers as redundant areas like marketing, publishing, and Q&A, Activision-Blizzard will recoup 20% more revenues to invest back into its games.
It promises to expand developer headcount by 20% to help fuel its expansive pipeline of video games, but not everyone will be working on new premium products. A good portion of them will design the live services that ensure those products live and make money for years and years
(Continued below)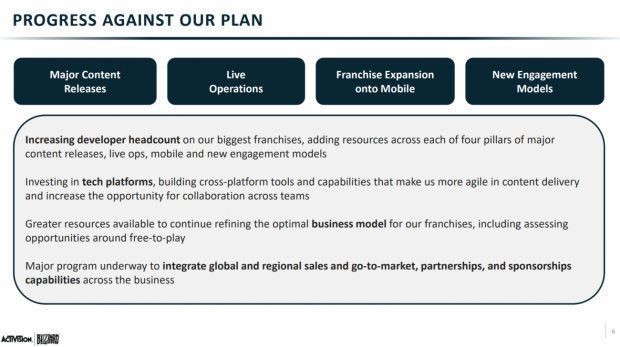 Activision's new business model is more of the same, only with more targeted emphasis on its core IPs and a new push towards mobile gaming.
Along with new games, the company is also doubling down on its monetization efforts. Making games is only one part of its big four-pronged approach. The rest is tailored towards microtransactions, live service updates and operations, and mobile ports of its key franchises.
Essentially the publisher is setting itself up for a big multi-year future of more of the same billion-dollar success it's enjoyed for the past decade. One tidbit to note about the Q1'19 earnings is how total costs are down by over 8%, showing some of the merits of this approach.
The only issue is the potential monetization ceiling. We may see the rich tidal wave of microtransaction billions slow to a trickle as more and more games put emphasis on grind-based mechanics and nickle-and-dime in-game purchases. Activision has a plan for this, too: eSports. The company will push its biggest franchises into eSports territory, complete with advertising revenue, spectating opportunities, deep engagement, and other tactical strategies aimed at tapping the lucrative pro circuit.
It's kicked off these initiatives with its Call of Duty League, which has signed five major professional teams across different states and provinces.
This earnings dip could be a blip on the radar for Activision. We could see Blizzard launch a new game in 2019 (it's first in a long while) alongside its rich live service offering, and Activision's new Call of Duty shooter from Infinity Ward will no-doubt stabilize yearly revenues.
But we could be waiting a while on Blizzard's products all the same. The publisher's 2019's total earnings forecasts are down quite a bit: Activision-Blizzard expects to earn $6 billion in net revenues throughout 2019, down 20% from the $7.5 billion in earned in 2018.
Related Tags