Why consoles are so important to big publishers
Surprise: it's all about money.

Published Sun, Apr 21 2019 1:39 PM CDT
|
Updated Tue, Nov 3 2020 11:48 AM CST
Console gaming has proven to be immensely lucrative for big players like Sony, Nintendo, Microsoft, and Activision, cementing the platform well into the industry's future.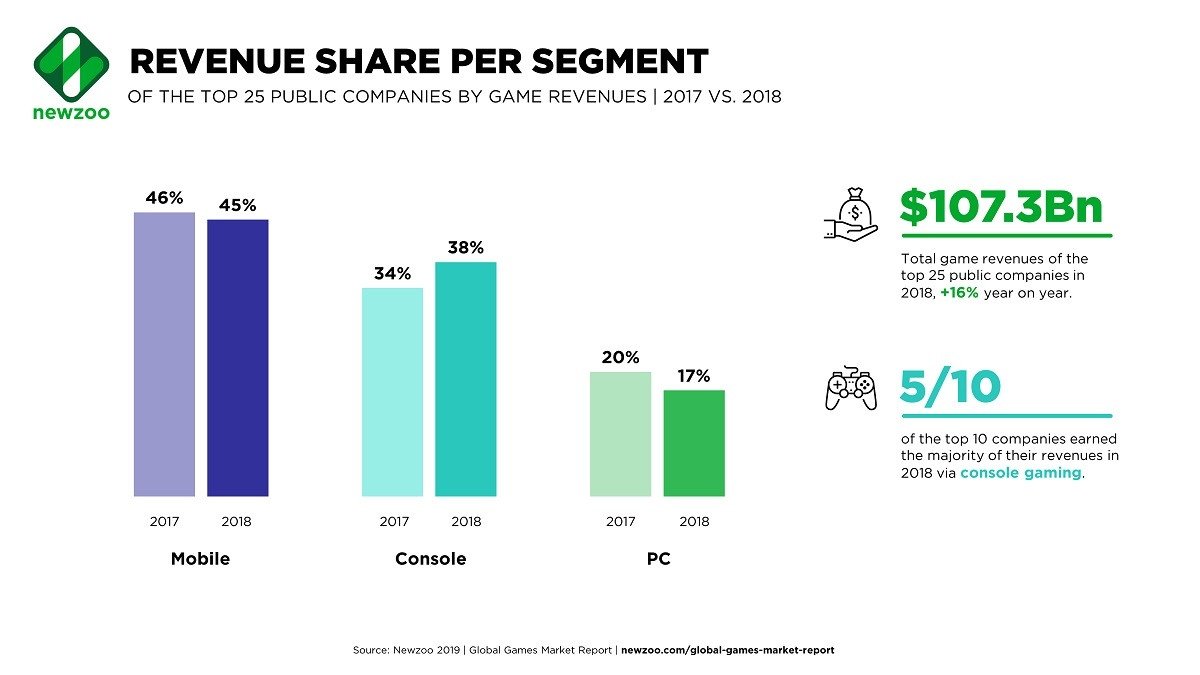 Cloud game streaming may be on the horizon, but consoles aren't going anywhere. Consoles act as a conduit for money-making services, subscriptions, game sales, and engagement strategies, all of which can be carefully cordoned off and fragmented to serve the whims of Nintendo, Sony and Microsoft. A recent report from Newzoo underlines these points with the most powerful metric of all: money.
According to Newzoo's 2018 market report on the top 25 biggest public earners in gaming, consoles made quite a bit of cash in the year. Out of the huge $107.3 billion earned by the top 25 games titans in 2018, consoles accounted for 38% of revenues of the top 25 earners, or about $40.7 billion. Predictably enough, platform-holders like Sony, Nintendo, and Microsoft made the most from console gaming (and rightly so given they all have their own consoles with strong digital ecosystems).
PC gaming was behind at 17%, or $18.24 billion, whereas mobiles reigned supreme with a big 45% piece of the pie at $48.2 billion.
What's most interesting about Newzoo's findings is just how much power these companies have. These games-makers and platform-holders made nearly 80% of the industry's worldwide earnings. This trend likely won't change any time soon, despite current monetization ceilings and business shifts made by companies like Activision-Blizzard and EA.
Top 5 gaming companies in 2018 revenues:
Tencent - $19.7 billion

Sony - $14.2 billion

Microsoft - $9.8 billion

Apple - $9.5 billion

Activision-Blizzard - $6.9 billion
So why does console gaming make the most? Because it can be monetized more efficiently. Xbox One, PS4, and Switch owners are forced to buy into subscriptions to play online with others, and the digital storefronts are more carefully controlled and fragmented to ensure consumers are pushed towards specific spending habits. This goes double for live games, which not only require subscriptions to play online, but also have optional in-game purchases to fuel sales.
Sony, Microsoft, and Nintendo make a cut of everything sold on their platforms, whether it be games, DLC, or microtransactions. Coupled with monthly subscription earnings, engagement-driven monetization via advertisements and microtransactions, and of course full game sales, each platform-maker is able to sell their hardware at a loss as gamers get hooked into the lucrative online framework.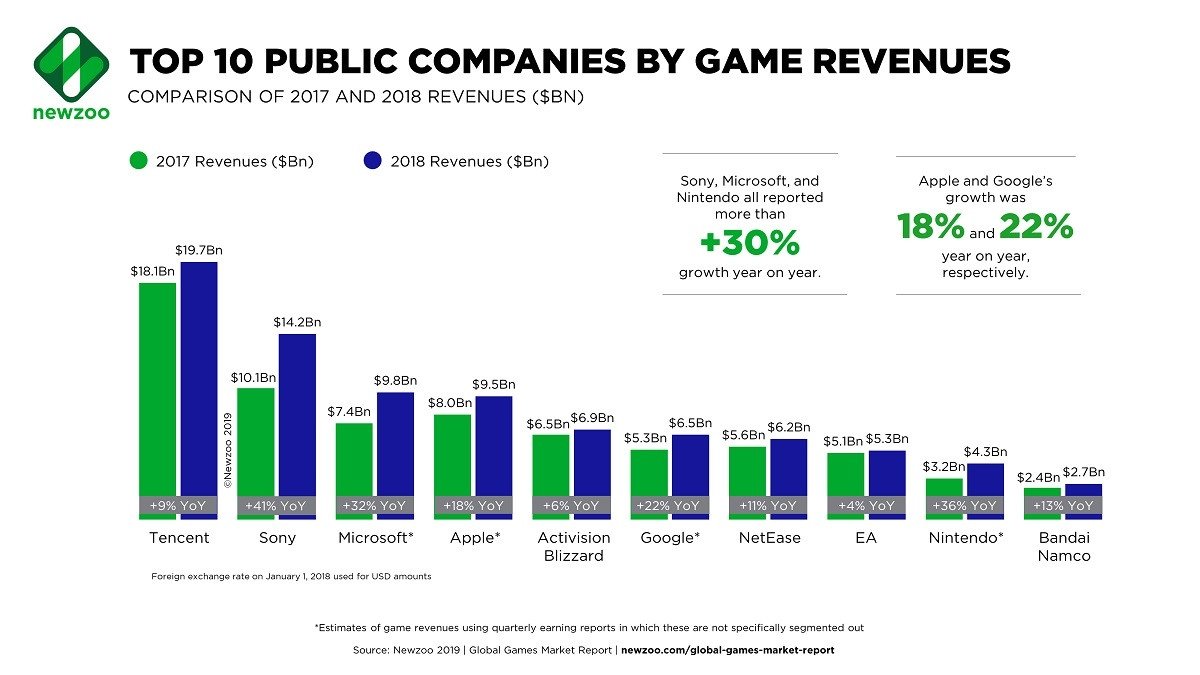 As VentureBeat reports, some companies have jumped more than others. Sony, for example, saw a dramatic 44% year-over-year increase to $14.2 billion. This is due to strong sales of first-party games, lucrative services like PlayStation Plus and side subscriptions like PS Vue, PS Now, and others, as well as PS4 hardware sales and games sold on the world's biggest console network.
Nintendo also enjoyed nice momentum throughout 2018. Its new Switch handheld-console hybrid has topped 22 million units shipped worldwide, and enjoys 160 million software sales to match. The company saw a substantial 36% year-over-year jump to $4.3 billion driven by rapid adoption of the Switch, game sales, and its push into mobile gaming.
Microsoft also saw strong 32% year-over-year growth to $9.8 billion, proving its digital-focused Xbox-as-a-service platform is doing quite well. Microsoft stands to expand greatly as it readies its new cloud streaming platform Project xCloud and ties it into the dynamic webwork of engagement-driven content on Xbox LIVE.
All three games-makers are currently working on respective next-gen systems: Sony with its new powerful PlayStation 5, Microsoft with its new Xbox Scarlett family of console hardware, and Nintendo with its next-gen Switch+ and Switch Lite systems.

Related Tags