YouTuber makes working PC out of lasagna
How tortellini awesome...the pasta-bilities are endless.
Published Apr 19, 2019 9:10 PM CDT
|
Updated Tue, Nov 3 2020 11:48 AM CST
0 minutes & 54 seconds read time
Gamers make PCs out of all kinds of things like toasters, tires, and even old liquor bottles...but what about food? Can you make, say, a pasta PC? Why yes, yes you can.
YouTuber Micah Laplante made a working pasta computer using lasagna as a makeshift chassis. The internals were from a stripped ASUS laptop, and with enough hot glue and layered carbs, the weird hybrid of food and fun was born. The pasta PC not only turned on and worked, but Laplante was able to play Rocket League for a bit.
This illustrious build began with a joke...which naturally turned into a challenge. "My wife said something one day joking about making a PC out of Pasta... Never joke with me on such things because I may just do it... and done it I have. Behold... The LASAGNA PC V.1," Laplante said. "Clickbait you say?! NAY! This is the real deal. The first ever crazy PC build on this Channel, and the first ever Pasta PC in the world. You're welcome."
We can't wait to see what other crazy builds Laplante and other gamers around the globe will come up with next...and maybe they'll be as delicious as this one.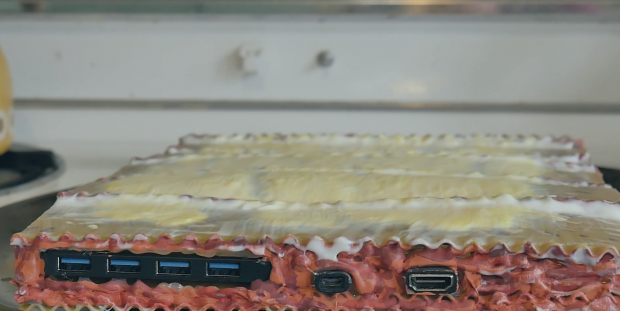 Related Tags