'Pornstache' Mendez to play Master Chief in Halo TV show
Master Chief will be portrayed by American Gods and Orange is the New Black.

Published Apr 17, 2019 5:16 PM CDT
|
Updated Tue, Nov 3 2020 11:48 AM CST
Orange is the New Black and American Gods star Pablo Schreiber will play Master Chief in Showtime's upcoming Halo TV series.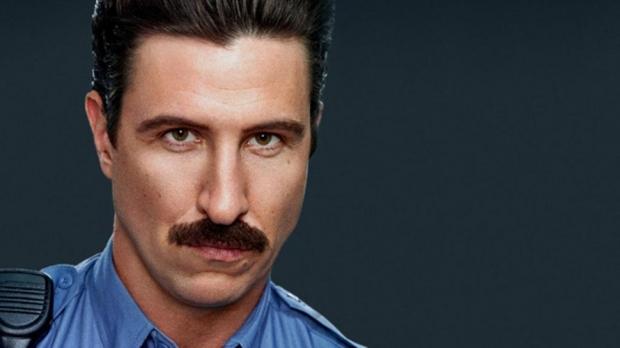 The Halo TV show has been in development hell for five years now. Originally announced in 2013, the series wasn't resurrected until 2018 when Showtime ordered a 10-episode season. Now after months of scriptwriting, delays, and swapped directors, the show is finally getting its biggest parts cast out.
The show's lead role, the iconic Master Chief, is being played by Pablo Schreiber, aka George "Pornstache" Mendez from Orange is the New Black.
There's no word on whether or not the Showtime Halo series will show Master Chief's face, but it probably will given the actor it's chosen and what the company says about the show. The Master Chief's face has always been carefully guarded in the the Halo games, except for Halo 4 which revealed his eyes. The idea is that you are Master Chief, and that he's a sort of vessel for players to live out a grand action fantasy about shooting aliens and performing death defying feats.
Showtime says the Halo show will be an intimate and personal story. It might be tough to portray a story like that to a mass audience without seeing the main character's face...although Halo 4 sure pulled it off well.
"It is a very different genre, it's futuristic, space-based science fiction, it's not fantasy. It took us a long time to get the script but we felt like we had something that was really interesting and felt like it belonged on Showtime in terms of its character depth, and it's gonna be a big show," Showtime CEO David Nevins said in 2018.
"We made a conscious decision to hire a writer not known for sci-fi and not known for big battle movies, because that's already baked into the Halo franchise and we will service that, but we also wanted to ensure that we were getting beneath the formidable armor of the Spartans and really getting inside the team drama so it felt like it belonged on Showtime," Showtime President of Programming Gary Levine told IGN.
The Halo TV series is expected to begin filming in Budapest, Hungary later this year.
Related Tags