Borderlands 3 will expand with 4 DLC packs
Borderlands 3 will have four DLCs in a $30 season pass to expand the game over time.

Published Wed, Apr 3 2019 1:09 PM CDT
|
Updated Tue, Nov 3 2020 11:49 AM CST
Today Gearbox revealed new details about Borderlands 3, including the hotly contested Epic Store exclusivity on PC. But they also hinted at what's to come after the game releases.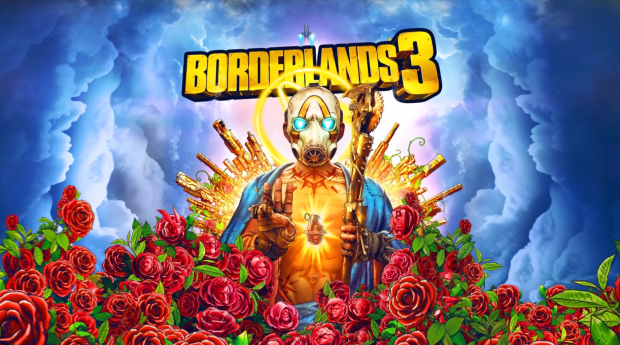 Post-launch DLC is par for the course with big AAA games like Borderlands, and the third chapter will be no different. Gearbox's new chaotic shoot-and-loot FPS Borderlands 3 will have four different expansions that release seasonally over the course of a year. The DLC packs are wrapped in a $29.99 season pass and will include new story missions and campaign content among some extras like weapon skins, trinkets, and mods (which may hint at microtransactions).
"Continue your Borderlands 3 adventure with the Season Pass, featuring exclusive cosmetic items and four story campaign add-ons with new missions and challenges!" reads the listing.
THE SEASON PASS INCLUDES:

• 4 campaign DLC packs featuring new stories, missions and challenges

• Butt Stallion weapon skin

• Butt Stallion weapon trinket

• Butt Stallion grenade mod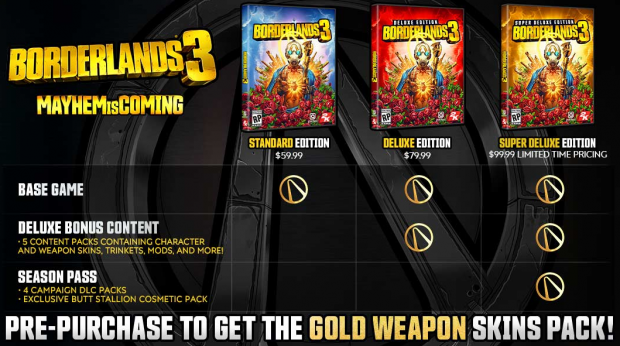 What's particularly interesting is the part about weapon skins. This could indicate Borderlands 3 could be monetized with cosmetic microtransactions alongside its season pass model...but I'm hoping I'm wrong here.
2K Games nor Take-Two Interactive are strangers to monetizing their games with optional online purchases like these, but Borderlands has typically relied on strong sales to make revenues.
But remember Borderlands 3 is a live service game with a critical online multiplayer component, which means its a great avenue for microtransactions. The only reason publishers make games like these is to make money by monetizing engagement over time. We outlined some Borderlands 3 monetization predictions a while back. Again, I hope I'm wrong here.
And Take-Two Interactive pretty much wants to infuse live services into all of its games. So don't be too surprised if we see a digital storefront that lets you peddle premium currency to deck out your vault hunter.
Borderlands 3 will release on September 13, 2019 (a congested month for 2K Games) on PS4, Xbox One, and PC.
Check below for more information:
The original shooter-looter returns, packing bazillions of guns and an all-new mayhem-fueled adventure. Blast your way through new worlds and enemies as one of four brand new Vault Hunters, each with deep skill trees, abilities, and customization. Play solo or join with friends to take on insane enemies, collect loads of loot and save your home from the most ruthless cult leaders in the galaxy.

Key Features:

A MAYHEM-FUELED THRILL RIDE

Stop the fanatical Calypso Twins from uniting the bandit clans and claiming the galaxy's ultimate power. Only you, a thrill-seeking Vault Hunter, have the arsenal and allies to take them down.

YOUR VAULT HUNTER, YOUR PLAYSTYLE

Become one of four extraordinary Vault Hunters, each with unique abilities, playstyles, deep skill trees, and tons of personalization options. All Vault Hunters are capable of awesome mayhem alone, but together they are unstoppable.

LOCK, LOAD, AND LOOT

With bazillions of guns and gadgets, every fight is an opportunity to score new gear. Firearms with self-propelling bullet shields? Check. Rifles that spawn fire-spewing volcanoes? Obviously. Guns that grow legs and chase down enemies while hurling verbal insults? Yeah, got that too.

NEW BORDERLANDS

Discover new worlds beyond Pandora, each featuring unique environments to explore and enemies to destroy. Tear through hostile deserts, battle your way across war-torn cityscapes, navigate deadly bayous, and more!

QUICK & SEAMLESS CO-OP ACTION

Play with anyone at any time online or in split-screen co-op, regardless of your level or mission progress. Take down enemies and challenges as a team, but reap rewards that are yours alone - no one misses out on loot.
Related Tags