Overclockers UK unveils $43,000 gaming PC: 8Pack Orion X2
$43,000 gaming PC is not one, but two machines with 3 x NVIDIA TITAN RTX graphics cards in total.
Published
2 minutes & 59 seconds read time
Overclocker '8PACK' is making headlines today with Overclockers UK unveiling his new 8Pack Orion X2 rig that costs an insane $43,000. What do you get for close to $50K? Well, not one but two damn powerful rigs with some absolutely beautiful custom watercooling and craftsmanship.
The new 8Pack Orion X2 is a dual-system with a fully custom watercooling system inside of the Phanteks Elite Full Tower PC, packing an Intel Core i9-7980XE processor (18C/36T) overclocked to a minimum of 4.6GHz. 8Pack has designed what Overclockers UK explain, and I would have to agree with, one of the "most complex and efficient custom watercooling systems ever installed in a PC".
TBoth of the systems are powered by a power splitter from the 8Pack Edition Super Flower Leadex power supply which provides 2000W of power to the systems, alongside 80Plus Platinum Certification.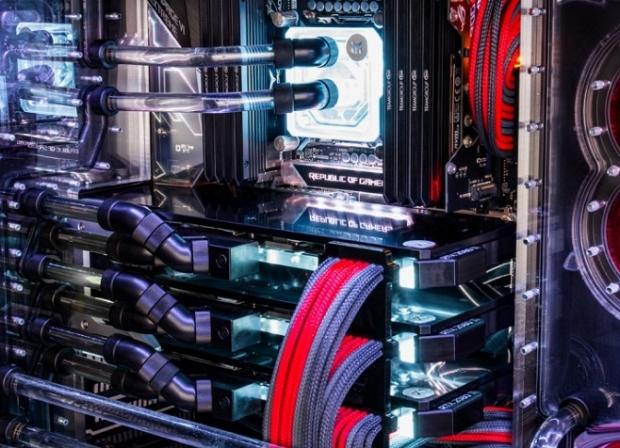 The triple-custom watercooling loop is pretty freaking insane, something you should read more on here, by is explained by OCUK as:
"A total of three independent loops are responsible for cooling, all of which are managed by their own Aquaero 6 from Aqua Computer, thereby enabling them to be conveniently controlled. The CPU as well as the NVMe drive of the E-ATX system are cooled by a 480 mm radiator as well as a 360 mm radiator. Visually, these two loops can be recognised by their grey and silver liquid coolant. The CPU of the Mini-ITX system on the other hand is cooled by a 360 mm radiator, the loop of which can be identified by its red coolant. The uniqueness of this water cooling setup, however, undoubtedly lies in the unusual design as 8Pack - apart from utilising premium components from EK Water Blocks, Aqua Computer and Mayhem - has also designed his own unique components especially for the OrionX2. For this reason the liquid coolants are guided through the whole system thanks to various custom acrylic plates, ultimately presenting themselves in the large reservoir in the shape of the 8Pack logo where all the liquid coolants and pumps finally come together. An absolutely unique show which is unrivalled in every respect including not only design and performance but also for its extremely quiet functioning".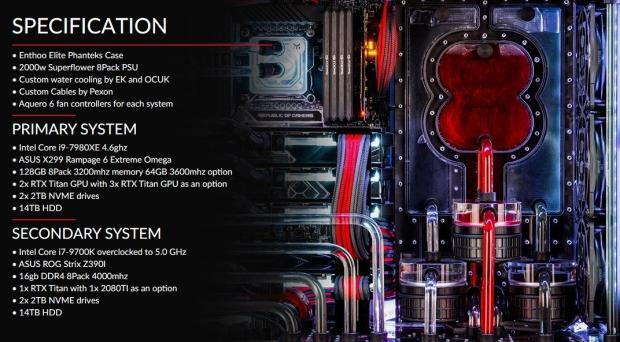 8PACK ORIONX DUAL-MEGA PC: E-ATX PRIMARY SYSTEM
Specially customised Phanteks Elite Full-Tower with integrated reservoirs and 8Pack logos

Cool interior with LED lighting, cable sleeving and coloured liquid coolant

Custom watercooling with EKWB components and three independent custom loops

Custom OC & water cooled Intel Core i9-7980XE (Skylake-E) with 18 Cores (36 Threads!!), 24.75 MB L3 Cache and OC @ min. 4.6GHz

ASUSS ROG Rampage 6 Extreme Omega Mainboard (E-ATX) with Intel X299 chipset and LGA 2066/li>

Two water cooled NVIDIA RTX Titan with 24GB GDDR6 VRAM connected in NV-Link for incredible gaming graphical performance, or three water cooled NVIDIA RTX Titan run independently for computational/rendering operation.

Faster and more efficient DDR4-RAM with 128 GB capacity and 3200MHz clock frequency or 64GB running at 3600MHz

2TB Samsung 970 Evo NVMe-SSD as the primary storage device

2TB Samsung 970 Evo NVMe-SSD as the secondary data storage

Huge 14 TB Seagate HDD for tertiary data storage

2.000 Watt Super Flower Leadex 8Pack Edition Power supply with extreme performance & 8Plus Platinum efficiency

Perfectly applied Thermal Grizzly Hydronaut thermal compound

Additional: Comes with Windows 10 Professional pre-installed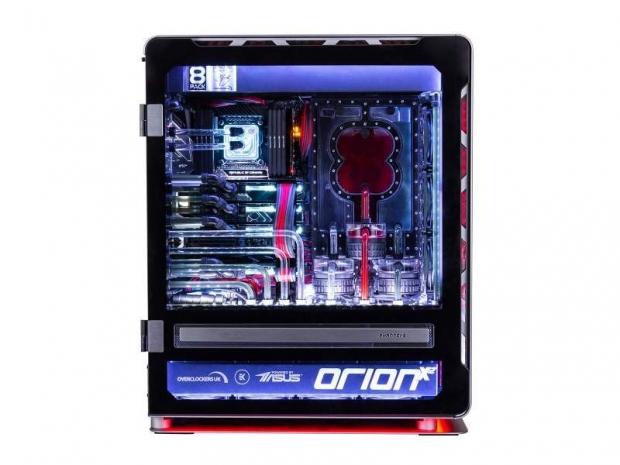 8PACK ORIONX DUAL-MEGA PC: MINI-ITX SECONDARY SYSTEM
Custom water cooled Intel Core i7-9700K (Coffee Lake) with 8 cores, 12 MB L3 Cache, and overclocked to at least 5.0GHz.

Or Intel Core i9-9900K, 8 Core, 16 Thread Overclocked to at least 4.8GHz

ASUS ROG Strix Z390I Gaming Motherboard (Mini-ITX)

Rapid DDR4-RAM with 16GB capacity at an unbelievable 4000MHz clock frequency

Exceptional graphics card: NVIDIA RTX Titan with 24GB GDDR6 VRAM

Two lightning-quick and reliable Samsung 970 Evo M.2 NVMe SSDs with 2TB, configured in RAID 0 as the primary storage devices

A huge 14 TB capacity Samsung HDD for secondary storage

Additional: Comes with Windows 10 Professional pre-installed
Related Tags