Anthem hits native 4K on Xbox One X
BioWare taps Xbox One X's extra horsepower to deliver native 4K resolution.

Published Tue, Feb 19 2019 7:06 PM CST
|
Updated Tue, Nov 3 2020 11:49 AM CST
Anthem is the latest big-budget AAA game to leverage the Xbox One X's boosted GPU and CPU for higher-end visuals.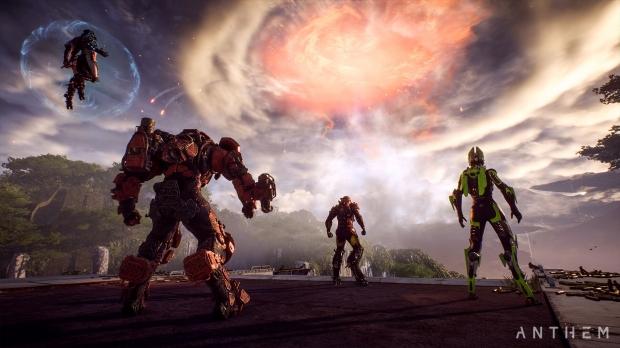 Armed with the brunt of the Xbox One X's higher-end 16nm Polaris GPU, 8-core Jaguar 2.3GHz CPU, and sizable 12GB of GDDR5 RAM, the team at BioWare brings a host of new console enhancements to their massive new IP, Anthem. The developer confirms Anthem can run at native 4K resolution with HDR on the Xbox One X--an impressive feat for any open-ended live game heavily reliant on online servers--but there's other optimizations included too. The in-game world will look better than ever with improved shadows and lighting effects, as well as boosted textures across the sci-fantasy landscape.
"The Anthem team has been able to leverage the power of the Xbox One X to deliver enhanced graphics to our players. The added GPU power of this console allows Anthem to render at native 4K and with HDR," BioWare's Scott Neumann told Xbox Wire. "To complement the increased image quality of 4K, we have also increased the resolution at which we render shadows in the game, and we have enhanced the rendering of in-game terrain."
"Finally, the added memory of the Xbox One X allows us to increase the number of meshes and textures we stream into the player's view at any given moment."
Read Also:Neill Blomkamp's Anthem film is absolutely amazing
Neumann says Microsoft has been very helpful with Anthem's Xbox One X optimization (EA also signed a promotional deal with the platform) and affirms the console's dev toolset is flexible, powerful, and easy to use.
But the question remains: what FPS will Anthem hit on Xbox One X? Native 4K 30FPS?
BioWare recently said the game would be locked at 30FPS on PS4 and Xbox One, but then producer Mark Darrah affirmed PS4 Pro and Xbox One X could break that barrier. We're betting the game will sustain native 4K resolution at variable frame rates that jump as high as 30FPS but probably as low as 20FPS. I'd like to see a FHD optimization mode that boosts past 30FPS, maybe to hit 1080p 60FPS, but 4K is a big selling point of the console so this may not be included.
Remember that it's up to devs how they want to use the Xbox One X's power and that Microsoft puts no mandates on performance. If BioWare just wants to focus on native 4K 30FPS and only offer 1080p 30-40FPS they can absolutely do it.
Anthem releases in just a few days on February 22, 2019 on Xbox One, PS4, and PC.
Related Tags