Lootboxes sneak into Black Ops 4
Activision makes good on its promise to double-down on monetization.

Published Tue, Feb 19 2019 2:33 PM CST
|
Updated Tue, Nov 3 2020 11:49 AM CST
Activision and Treyarch add a familiar feature to Black Ops 4: lootboxes.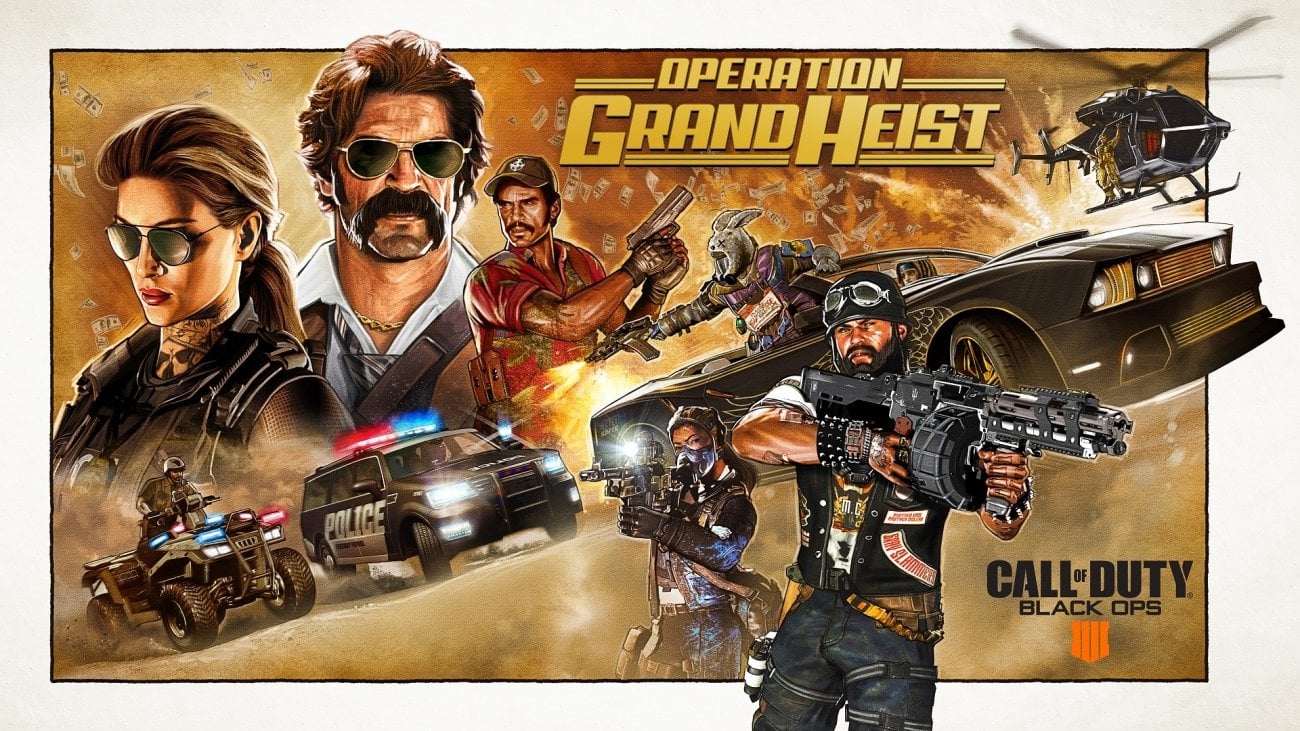 Black Ops 4 is already monetized with battle passes and COD Points (even reticles cost cash), but now lootboxes are coming back too. Starting with its new Operation Grand Heist update, Black Ops 4 will have purchasable lootboxes filled with randomized cosmetic loot. A new vendor, Blackjack, will peddle these seasonal-style wares in the game's Black Market microtransaction storefront. Not surprisingly, Activision never explicitly calls its lootboxes what they are--instead they're referred to as "Cases".
"Blackjack's Reserves: New Reserve items include playable zombie Blackout characters, Vacation Hudson sporting a Hawaiian shirt and tie, Mastercrafts for the KN-57 and Outlaw, and much more. Items from Reserves in past Operations will be available in Blackjack's Reserves, including the Mozu Replicant and SG12 Boombox Mastercrafts. Additionally, Cases containing Blackjack Reserves can be earned by playing Multiplayer or Blackout, or they can be acquired in the Black Market," reads a Treyarch blog post announcement.
Operating Grand Heist adds a dizzying amount of new content to the game, including new Blackout maps, a new specialist called Outrider who uses a stylish bow, tons of new weapons (and cosmetic skins that can be bought with real cash), new maps, and new character cosmetics.
This move isn't surprising for Activision, and is doubly predictable given the company's new focus on monetization.
Activision-Blizzard just went through major restructuring plans. It fired 800 employees and plans to use those wages to fund game development and ramp up creation of its biggest new games. Game dev is a bit different from the publisher, however: that cash isn't just for making actual games, but also designing live services that power them.
The company says it'll double down on monetizing its new and existing games, and tap emerging business models. It already made good on this promise with Black Ops 4's Battle Pass, which takes cues from Fortnite and DOTA 2, and now it's re-introducing lootboxes into Call of Duty.
This also means more free-to-play games and mobile adaptations of big new IPs--not to mention harder monetization into its biggest franchises.
"One thing we know though is that we need to be able to move more quickly and we need to be able to rapidly evolve with the demands of our players in the market," Activision COO Coddy Johnson said in a compnay earnings call when asked about Apex Legends and how it's shaping the publisher's future moves.
"And that's why as I mentioned, we are investing significant development resources in our core franchises to be able to move more quickly on behalf of our players and to be able to take advantage of new business models."
Check below to see the massive amount of content Operation Grand Heist adds to Black Ops 4:

Related Tags