Tetris 99 boosts Switch Online value
Nintendo boosts Switch Online subscription value with new free Tetris multiplayer chaos.

Published Thu, Feb 14 2019 9:21 AM CST
|
Updated Tue, Nov 3 2020 11:49 AM CST
Today Nintendo revealed how it'll keep adding value to Switch Online memberships: more free games.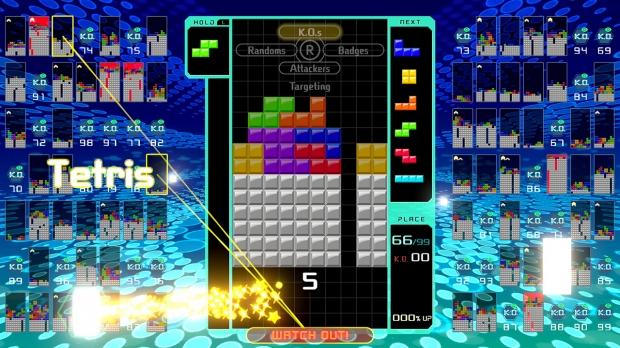 Switch Online was always different than competing services like Xbox LIVE or PlayStation Plus. For one, it's a lot cheaper at $20 a year. Secondly, Nintendo dusts off its archive of NES classics and releases 3 free retro games every month to the service. But now we're seeing Switch Online morph closer to other subscriptions with free third-party games made specifically for the console. This is a trend that should continue and attract a lot of gamers to the service.
In its recent earnings report, Nintendo promised to boost Switch Online's value by "expanding the service offerings." With over 8 million subscribers, almost 25% of Switch owners have subscribed to Switch Online...but Nintendo wants more. Now we have an idea how Nintendo will add value: enter Tetris 99, a huge 99-player online tetromino battle royale extravaganza exclusive to Switch Online.
Announced during the recent Nintendo Direct showcase, Tetris 99 is the first blast in Nintendo's subscription-boosting arsenal. The library of NES games is a big reason why gamers buy into the service, ditto for the online multiplayer, and Tetris 99 fits into both of those categories with one of the most addictive games ever made.
Apart from third-party releases, there's evidence Nintendo will also add SNES games to its growing vault of classic Switch Online games.
Tetris 99 is now available for free exclusively for Switch Online members.
The free to download online software, Tetris 99, is available as a special offer for Nintendo Switch Online members. In large-scale, 99-player battles, it'll take speed, skill, and strategy to knock out the competition and become the last player standing. You can target opponents by sending them Garbage Blocks, but be careful...your rivals can target you back! Defeat opponents to acquire KO badges that may give you the advantage on future attacks. Survive the onslaught and look forward to upcoming online events!
Related Tags