Free-to-play made 80% of 2018 digital game revenues
Free-to-play earned $87.84 billion in 2018, primarily from Asian gamers.
Published Jan 16, 2019 9:12 PM CST
|
Updated Tue, Nov 3 2020 11:49 AM CST
1 minute & 33 seconds read time
Driven by popular games like Fortnite, Dungeon Fighter Online, and League of Legends, the free-to-play sector made a whopping 80% of 2018's total digital game revenues, analyst firm SuperData reports.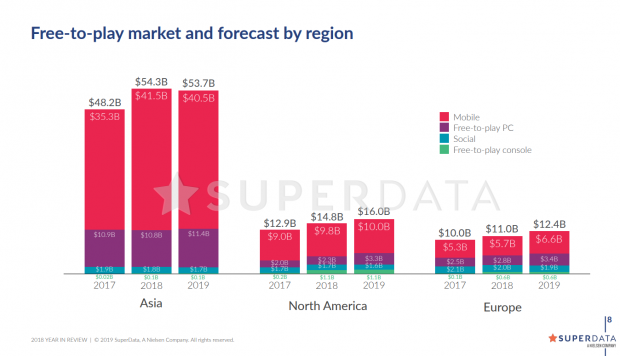 Thanks to lucrative monetization, successful engagement strategies, and easy smartphone accessibility, free-to-play continues its long-standing reign on the industry. The F2P segment managed to rake in a whopping $87.84 billion across all platforms in 2018, or 80% of total digital game revenues for the year.
The digital market pulled in $109.8 billion throughout 2018, up a strong 11% year-over-year and sending clear signals to publishers like EA, Activision-Blizzard, Ubisoft, Tencent and Nexon that their live service plans are working. Asian territories fueled these billions and the region generated the lion's share of earnings for the segment. Conversely, areas like North America and Europe prefer bigger buy-to-play games like Red Dead Redemption 2, PUBG, and Black Ops 4.
"Free-to-play titles amassed 80% of digital games revenue in 2018 but premium games still performed well in Western markets," SuperData wrote in its annual 2018 Year in Review report. "Asian mobile games helped the region earn 62% of global free-to-play revenue, while North America and Europe generated 80% of premium games revenue."
Free-to-play games on consoles earned less than 5% of total yearly revenues, which is actually surprising given the popularity of key games like Fortnite. It only goes to show the raw power of mobile gaming and its litany of microtransactions.
Total 2018 F2P digital revenue segment breakdowns are as follows:
Mobile - $50 billion, or 62.42%
Free-to-play PC - $15.9 billion, or 19.85%
Social - $5.5 billion, or 6.9%
Free-to-play Console - $1.8 billion, or 2.25%
SuperData expects Asia's F2P mobile gaming to slightly dip in 2019, whereas North America and Europe should rise. Slight fluctuations in other segments like F2P console and social gaming are expected as well.
Overall 2019 forecasts see Asia's F2P market drop slightly by 1.1%, North America should jump by a nice 8.1%, and Europe should rise by a bigger 12.7%.
Related Tags