Like the Xbox One ring of hardware, Microsoft's new next-generation Xbox range will belong to a family of systems.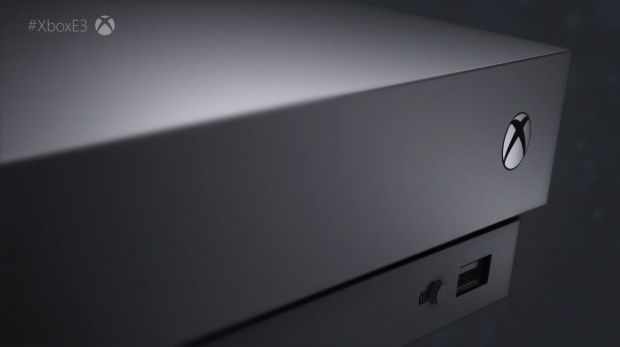 Microsoft is currently developing multiple new Xbox consoles that will be part of the new codenamed Scarlett hardware family. Back at E3 2018, Xbox division head Phil Spencer confirmed more than one system was in the works, and sources say as many as three new Xbox variants may be on the way. According to various rumors and sources, the games-maker will have a staggered tier of Xbox Scarlett systems that essentially mimic the price range and spec ratio of the Xbox One S and Xbox One X systems.
The cheaper and more accessible Xbox One S successor is reportedly built from the Lockhart devkit and has mid-range specifications, whereas the beefier Xbox One X successor's devkit is called Anaconda and may tap AMD's next-generation Zen 2 CPU and Navi GPU architectures for enthusiast-grade console gaming. The hardware itself should be highly customized and utilize Microsoft's full range of services and content, and play existing Xbox One games via backward compatibility--both digital and disc-based.
The Scarlett family isn't expected to launch before 2020 and may actually be a part of the iterative Xbox One cycle in terms of cross-functionality, compatibility, and content.
The main difference between the two families should be raw horsepower, and developers may be able to tap Scarlett's extra hardware power to upgrade existing Xbox One games with better performance, similar to how Xbox One X Enhanced games currently work.
Read more: Xbox One X benchmarks revealed
As for the immediate future in 2019, sources have told Thurrot and Windows Central that a digital-only Xbox system will launch next year. This is likely part of the current Xbox One family and may not be a Scarlett system. We actually predicted this could happen before sources gave out the info and before Microsoft announced Project xCloud.
Shaving off the disc drive will lower the SKU's price, and it's likely this Xbox will be a cheaper set-top box aimed at tapping Microsoft's wealth of digital services including Xbox LIVE, Xbox Game Pass, and eventually its streaming-based Project xCloud service.
Gamers may be able to trade in their disc-based Xbox games for digital versions that tie to their Microsoft accounts, effectively permanently folding users into the company's lucrative billion-dollar engagement ecosystem. It's also likely that this digital-only Xbox is a successor to the failed Project Hobart streaming box/stick combo.
Microsoft has yet to confirm any specific details about its upcoming plans. The company will be one of the last bastions of console gaming left at E3 2019, and it promises big things for next year's event.