Star Wars Battlefront II: Obi-Wan & Geonosis gameplay video
Star Wars Battlefront II has had the Battle of Geonosis update made live, a long gameplay video has been released.

Published Tue, Nov 27 2018 5:00 AM CST
|
Updated Tue, Nov 3 2020 11:50 AM CST
Last week, we saw that the Star Wars Battlefront II: Battle of Geonosis official trailer released and now that the update is being pushed to the live game we have some lengthy gameplay footage released.
The above 20 minute video takes us to the frontlines of a Galactic Assault on Geonosis. We see clone troopers, Obi-Wan Kenobi's abilities, vehicles such as the AT-TE, STAP, and Barc Speeder. The video also shows General Grievous' new hero skin shattered armor and a great insight at what players will be jumping into.
Star Wars Battlefront 2 Obi-Wan Kenobi and Geonosis arrive on November 28 for the Xbox One, Xbox One X, PC and PS4 Pro. In the entirety of this post you will find each of the timestamps for the respective features that are found in the video. For more information, visit the official EA Star Wars website here.
0:24 - 212th Clone Troopers Gameplay
2:22 - Obi-Wan Kenobi Gameplay (Jedi Robes Skin)
6:23 - BARC Speeder Gameplay
7:01 - AT-TE Gameplay
9:41 - Obi-Wan Kenobi Gameplay (Jedi Master Skin)
13:59 - 212th Clone Trooper Specialist Gameplay
16:24 - STAP Vehicle Gameplay
17:12 - General Grievous NEW SKIN Gameplay (Shattered Armored Skin)
19:52 - End Cinematic on Geonosis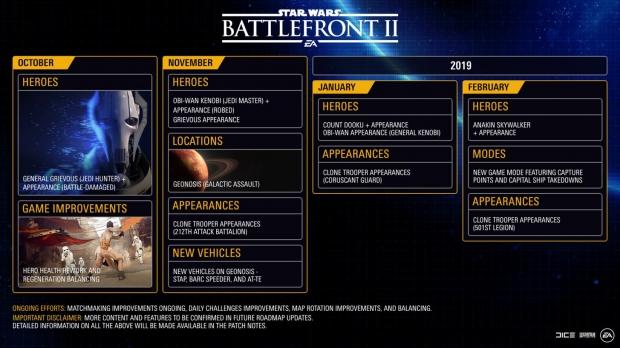 Related Tags