EA and DICE have detailed the PC requirements for Battlefield V with three different requirements for the game, including the usual minimum and recommended PC specs, but there's also a new DXR requirements for the ray tracing side of the game.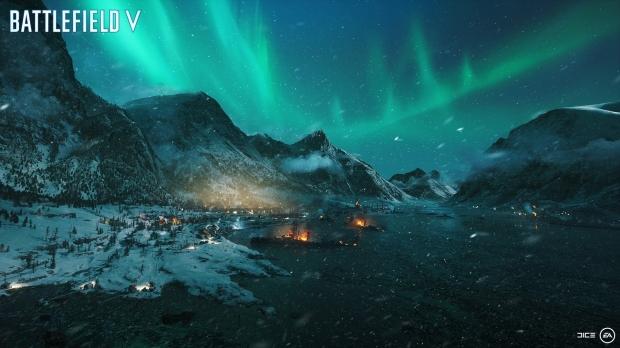 At a bare minimum you're going to need an Intel Core i5-6600K or AMD FX-8350 processor, 8GB of RAM and either NVIDIA's GeForce GTX 1050 or GTX 660 graphics cards, or the AMD Radeon RX 560 or HD 7850. Not too bad, considering how good Battlefield V looks... but if you want to run it more optimally, DICE is recommending a higher-end Core i7-4790 or AMD Ryzen 3 1300X, 12GB of RAM, and a beefier GeForce GTX 1060 or Radeon RX 580 graphics card.
DXR knocks things up much higher with the CPU requirements being an Intel Core i7-8700 or AMD Ryzen 7 2700 with 16GB of RAM, with only NVIDIA making the cut for graphics cards with Battlefield V in DXR. DICE is recommending the GeForce RTX 2070 graphics card for real-time ray tracing abilities, but I would recommend the flagship GeForce RTX 2080 Ti if you're running real-time ray tracing in Battlefield V, just to keep those frames up. The RTX 2070 will most likely struggle in a big way, but is the cheapest card that is DXR-compatible.
The full requirements are below:
BATTLEFIELD V MINIMUM SYSTEM REQUIREMENTS
OS: 64-bit Windows 7, Windows 8.1 and Windows 10

Processor (AMD): AMD FX-8350

Processor (Intel): Core i5 6600K

Memory: 8GB RAM

Graphics card (NVIDIA): NVIDIA GeForceÃ,® GTX 1050 / NVIDIA GeForceÃ,® GTX 660 2GB

Graphics card (AMD): AMD Radeonâ"¢ RX 560 / HD 7850 2GB

DirectX: 11.0 Compatible video card or equivalent

Online Connection Requirements: 512 KBPS or faster Internet connection

Hard-drive space: 50GB
BATTLEFIELD V RECOMMENDED SYSTEM REQUIREMENTS
OS: 64-bit Windows 10 or later

Processor (AMD): AMD Ryzen 3 1300X

Processor (Intel): Intel Core i7 4790 or equivalent

Memory: 12GB RAM

Graphics card (NVIDIA): NVIDIA GeForceÃ,® GTX 1060 6GB

Graphics card (AMD): AMD Radeonâ"¢ RX 580 8GB

DirectX: 11.1 Compatible video card or equivalent

Online Connection Requirements: 512 KBPS or faster Internet connection

Available Disk Space: 50GB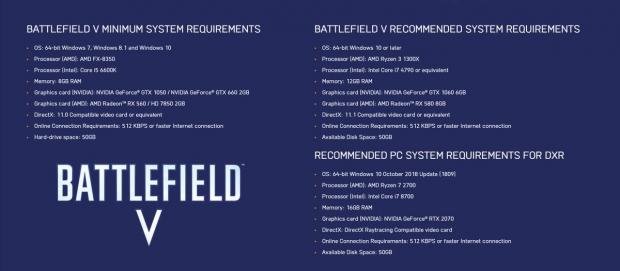 RECOMMENDED PC SYSTEM REQUIREMENTS FOR DXR
OS: 64-bit Windows 10 October 2018 Update (1809)

Processor (AMD): AMD Ryzen 7 2700

Processor (Intel): Intel Core i7 8700

Memory: 16GB RAM

Graphics card (NVIDIA): NVIDIA GeForceÃ,® RTX 2070

DirectX: DirectX Raytracing Compatible video card

Online Connection Requirements: 512 KBPS or faster Internet connection

Available Disk Space: 50GB