EA makes $1.286 billion in Fiscal Q2'19
Games juggernaut EA rakes in strong revenues on back of digital earnings.

Published Mon, Nov 5 2018 5:32 PM CST
|
Updated Tue, Nov 3 2020 11:50 AM CST
Electronic Arts strengthens its foothold as a titan of the industry and rakes in more than $1 billion in its second quarter.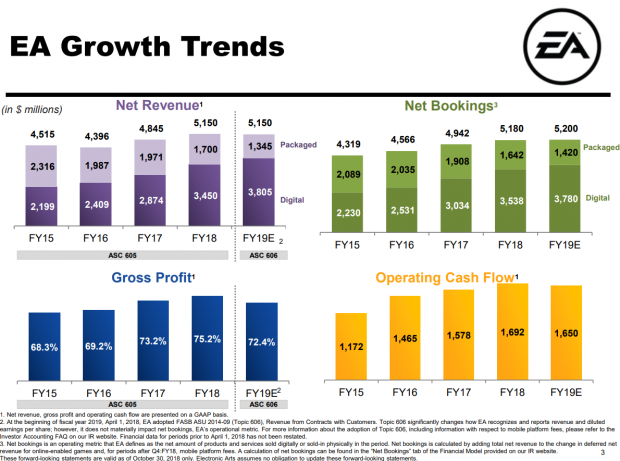 In its recently announced Fiscal Year Q2'19 earnings, EA saw strong growth in key segments. The company generated $1.286 billion in total net revenues in the 3 month period ended September 30, 2018, up a strong 34% year-over-year and $16 million above EA's Q2'19 guidance. Operating income, which is gross profit minus operating expenses, sits at $258 million for the quarter, down 14% year-over-year.
"EA's net revenue was $1.286 billion, above our guidance by $16 million. Operating expenses were $610 million, $64 million lower than our guidance driven by compensation and related expenses and some phasing of marketing expenses," said EA CFO Blake Jorgensen in the earnings call.
"GAAP operating income was $258 million compared to an operating loss of $41 million a year ago and resulting in an earnings per share of $0.83, $0.35 better than our guidance. Underlying profit was much stronger than we had expected driven by increased sales, better gross margin and lower operating expenses."
In trailing 12-months, which includes FY2018's last two quarters combined with FY2019's first two, EA earned $5.165 billion in net revenues. Remember EA spends quite a bit to make its cash, though: in TTM (trailing twelve-months) EA made $3.798 in gross profit after subtracting $1.367 billion in costs. EA also spent over $2.5 billion on operating costs, such as games development, live service hosting, and other administrative fees.
As a result, operating income for the current TTM period sits at $1.290 billion.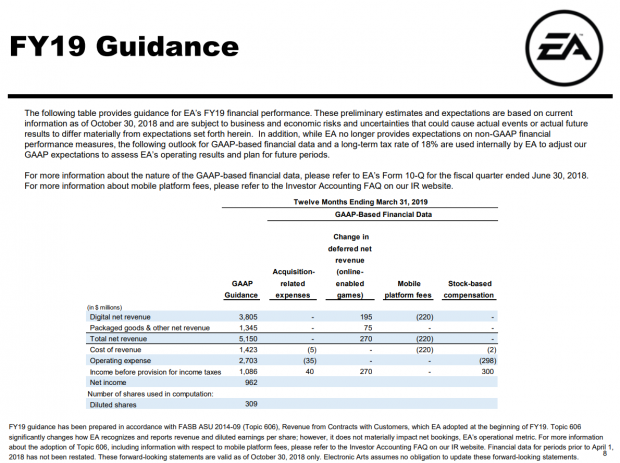 For the total Fiscal Year 2019 period (ending March 31, 2019) the company expects to make $5.150 billion in total net revenues, of which nearly 74%, or $3.80 billion, will be from digital.
Fiscal Year 2019 Expectations - Ending March 31, 2019
Financial metrics:
Net revenue is expected to be approximately $5.150 billion.

Change in deferred net revenue (online-enabled games) is expected to be

approximately $270 million.

Mobile platform fees are expected to be approximately $(220) million.

Net income is expected to be approximately $962 million.

Diluted earnings per share is expected to be approximately $3.11.

Operating cash flow is expected to be approximately $1.650 billion.

The Company estimates a share count of 309 million for purposes of calculating fiscal

year 2019 diluted earnings per share.
Operational metric:
Net bookings is expected to be approximately $5.200 billion.
Related Tags