Switch rallies digital sales in Nintendo's 1H'18
Switch owners are propelling digital sales on Nintendo's eShop platform.

Published Wed, Oct 31 2018 4:40 PM CDT
|
Updated Tue, Nov 3 2020 11:50 AM CST
Nintendo saw strong digital sales growth in the first two quarters of Fiscal Year 2018 as more Switch owners buy directly from the eShop.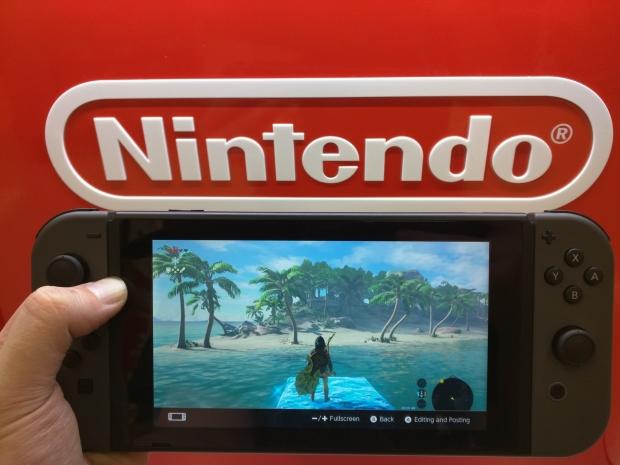 More and more consumers are buying into digital ecosystems like PS Plus, Xbox LIVE, and Steam, and now thanks to the Switch, Nintendo is enjoying a strong surge in digital sales revenue. In its latest financial earnings report, Nintendo says it enjoyed record digital sales of 31.9 billion yen in the first half of its FY2018 timeline, up an incredible 70% year-over-year. Total digital figures aren't just full game sales and include DLC, add-ons, in-game spending in games like Fortnite, game sales on eShop, and Switch Online subscriptions.
Nintendo president Shuntaro Furukawa says 60% of the digital sales were from eShop purchases of packaged games, which means the company made 23.46 billion yen from digital games.
"Digital sales also have expanded since the launch of Nintendo Switch. Such sales reached a record high in the first half of the fiscal year ending March 2019. As the sales volume of Nintendo Switch software increased, so did consumer demand for the downloadable versions of the software, and this gave a boost to digital sales," Mr. Furukawa said in the earnings report.
"This breaks down to downloadable versions of packaged software accounting for approximately 60% of all digital sales. Although the ratio itself has not changed from last year, note that sales of download-only software and add-on content have been on the increase."
To illustrate this uptick we just take a quick look at past digital trends. Current Q2 digital sales of 20.6 billion yen actually beat Q3's holiday timeline sales of 20.3 billion yen, which is tremendous given the Christmas season.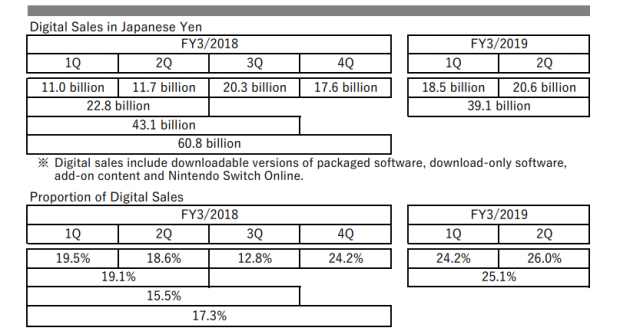 Read Also: Nintendo Switch sales top 22 million
Insofar as raw volume units and not revenue, digital made up 25.1% of Nintendo's fiscal 1H'18 dedicated software sales. This means Nintendo sold more digital products in two quarters than it did in the entire 2017 fiscal year.
Nintendo will keep doubling down on digital with new strategies like Switch Online content, new engagement rollouts like live events in Splatoon 2 and Super Smah Bros. Ultimate, and lots more DLC for users to buy and enjoy over time. Online play will also be a big focus for Nintendo's continued digital path.
"We need continuous growth. We must keep releasing new software. That includes DLCs and other contents for big titles that are already out. And more focus on online play," the Nintendo president said during a financial Q&A in Japan (as per Bloomberg's Yuji Nakamura).
"Lastly, more genres and diverse games to draw in people who don't currently play on Switch."
Related Tags