Intellivision's new $150 console has online store, new games
Intellivision's new console isn't just a retro throwback: it's a brand new platform ecosystem.

Published Tue, Oct 23 2018 7:35 PM CDT
|
Updated Tue, Nov 3 2020 11:50 AM CST
With its new $150 Amico console, Intellivision aims to do what Atari's doing with its new Atari VCS platform.
In a sea of retro nostalgic throwbacks like the upcoming $100 PlayStation Classic, the Intellivision Amico wants to do something different. Rather than making a static, offline-only system with old-school games, Intellivision is creating its own gaming ecosystem with its Amico console as the nexus (a light example would be how Sony's PlayStation Store and subscriptions all revolve around the PS4).
As far as a plan goes, the Amico shares lots of similarities with Atari's VCS business strategy. The Amico will connect to an online storefront that sells digital games, like the VCS, and actually has a kind of online framework to engage users with online multiplayer, leaderboards, and achievements.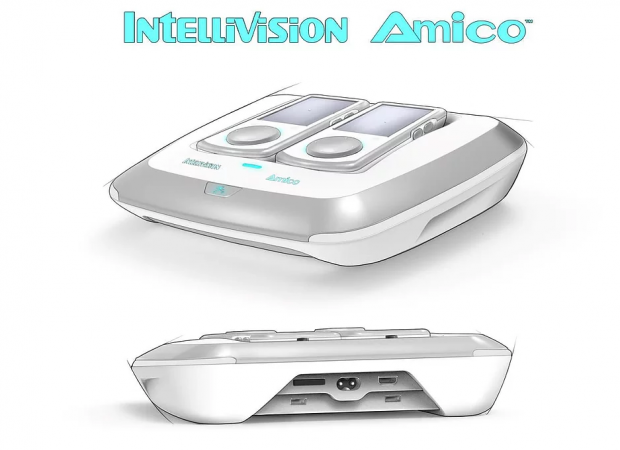 Exact specs of the $150 console have yet to be revealed, but it will indeed be a modern system that plays both retro games and new games made by indie partners. A lot of the Amico's games are "reimagined" or "remade" exclusively for the console, and one surprise example is a slew of Atari games like Centipede and Asteroids, and even hits like R-Type and Toejam and Earl. The latter should be fun via online co-op.
The game selection is built around accessible family-friendly fun. Every game will be rated E for Everyone or E 10+ so parents don't have to worry about what their kids are playing.
"Not only will the Intellivision Amico bring the fun and simplicity of classic gaming to modern day, but an entire plethora of completely brand new games and franchises are currently being created by game developers and game publishers around the world using the same core principles of sensible, simple and fun," reads the announcement post.
The Amico's games will be sold for $2.99 - $7.99 and Intellivision promises that no microtransactions, DLC, or lootboxes will ever be present--that means no tricky monetization tactics and just raw game sales.
The system will retail for $150 to $170, and is expected to release by October 2020.
Check below for more information about the Intellivision Amico:
SOFTWARE OVERVIEW
All games are family friendly and rated "E for Everyone" or "E10+".

Every game version on the console is EXCLUSIVE.

Quality over quantity! All games must past a strict quality control seal of approval.

Balanced gameplay and design for Equal Opportunity Gaming™ for all.

All games are downloadable and between US $2.99 - $7.99.

No costly DLC (Downloadable Content) add-on's or "In-App Purchases".
Launch to include several built-in reimagined Intellivision Classics (pre-installed in every console) and over 20 games including both reimagined industry classics and brand new exclusive titles via the Intellivision Online Store.
CONTROLLERS
2 wireless Bluetooth controllers (up to 8 player compatible and connectivity).

3 ½ inch (2:3 aspect ratio) Color Touchscreen.

Pioneering tilting positional disc with surrounding interactive LED border.

4 arcade-style tactile feedback buttons.

Gyroscope & Accelerometer.

Force feedback.

Controller to be used horizontally or vertically including dominant left or right hand usage.

Qi (pronounced "CHEE") wireless onboard charging.

Speaker

Microphone

Free downloadable app enables mobile phones as additional controllers (up to 8 players).
HARDWARE & TECHNOLOGY
State of the Art 21st Century 2D Image Processing and Graphics Capability

Intellivision Prism Onboard Interactive Lighting Technology.

Wi-Fi/BT & Ethernet Connectivity.

HDMI Video Output.

Multiple USB Ports

System Expansion Interface.
ONLINE
Intellivision Online Store for the ability to purchase additional software.

Multi-player online gaming and structured multi-tiered tournament play.

Time & Space Leaderboard System which includes high scores by locations and calendar.

Trophy/Achievement rewards system which awards unique accomplishments to each player.
Related Tags