NVIDIA has released its full stack of GeForce RTX series graphics cards in the GeForce RTX 2080 Ti, RTX 2080, and the latest RTX 2070... all while AMD has nothing. Well, there's rumors of the Radeon RX 590 which is a 12nm refresh of the RX 580, but nothing new, new.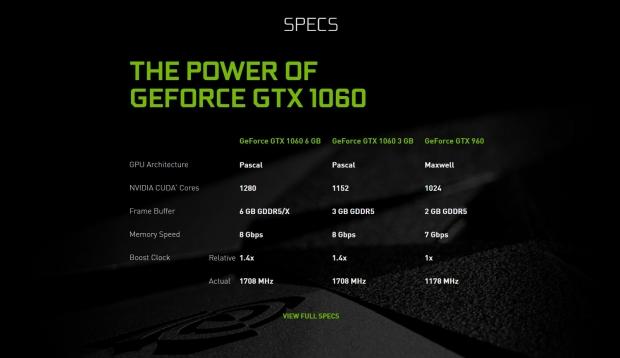 AMD's new Radeon RX 590 might be waiting in the wings but it's not official, and without trying to steal its thunder, NVIDIA has with the quiet release of a new GeForce GTX 1060. The new GeForce GTX 1060 has the same 6GB of VRAM but it has been upgraded to GDDR5X versus the GDDR5 used on all current GTX 1060 graphics cards.
The first GeForce GTX 1060 included 6GB of GDDR5 at 8Gbps, while a newer model was made available with the 6GB of GDDR5 cranked up to 9Gbps. This new GeForce GTX 1060 has seen NVIDIA upgrade the 6GB of framebuffer to 10Gbps with the faster GDDR5X memory. The same 120W TDP applies, as does the single 8-pin PCIe power connector.
As for the memory bandwidth increase we're looking at:
GTX 1060 6GB GDDR5 @ 8Gbps - 192GB/sec

GTX 1060 6GB GDDR5 @ 9Gbps - 224GB/sec

GTX 1060 6GB GDDR5X @ 10Gbps - 240GB/sec
NVIDIA has the new GeForce GTX 1060 with 6GB of GDDR5X available right now on their own store in Founders Edition form for $299. We should see this better compete against the Radeon RX 580 and its upcoming RX 590 refresh on the newer 12nm node. NVIDIA looks to be getting ahead of the new Radeon release, or this was always in the works. If a new GTX 1060 with GDDR5X was in the works you'd think there'd be an announcement of some kind... but nope, here we are.