Red Dead Redemption 2 may hit native 4K on Xbox One X
Rockstar Games might push the Xbox One X to its limits.

Published Wed, Oct 3 2018 4:34 PM CDT
|
Updated Tue, Nov 3 2020 11:50 AM CST
Although Rockstar Games has a marketing deal with Sony, Red Dead Redemption 2 should run best on Microsoft's higher-end Xbox One X console--possibly so well that the huge open-world Western will hit native 4K resolution on the system.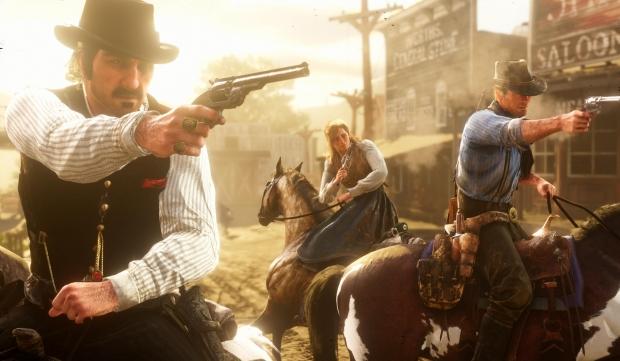 Red Dead Redemption 2's raucous gun-slinging frontier adventure will run at native 4K without any dynamic resolution scaling or checkerboard rendering mechanisms in place, according to a recent Tweet from Xbox France.
This actually might be possible given RDR2 was built from the ground up for consoles, and it's highly likely that Rockstar will optimize both the PS4 Pro and Xbox One X's full power to impressive results. Everything we've seen so far shows advanced lighting, more dynamic physics systems, stellar animation, and seamless blending of cinematic and gameplay sequences.
However it's possible Xbox France simply misspoke. Bigger open-ended games are typically a balancing act when it comes to 4K, and as a result not many hit native 3840x2160 resolution. A lot of Xbox One X or PS4 Pro enhanced games have tools that consistently lower resolution in favor of steady frames-per-second depending on what's happening in-game. This is especially interesting given Red Dead Redemption 2 offers both first-person and third-person views, the latter offering a wider scope that could adjust resolution (if scaling is indeed used).
Read more: Red Dead Redemption 2 has players surviving off the land
Rockstar has confirmed Red Dead Redemption 2 will run at 30FPS on all platforms regardless if you play on a stock PS4 or a beefy Xbox One X. But that isn't to say the iterative consoles' extra specs won't be tapped to their full potential as Rockstar is wont to do.
It's true RDR2 is being marketed as a marquee 4K title and should be completely optimized as such, and I'm curious how much the Xbox One X version will differ from the PS4 Pro flavor. And I'm wondering if the XOX version will be bigger than the 105GB of space required on PS4 Pro.
Red Dead Redemption 2 rolls out on October 26, 2018 on PS4 and Xbox One.
Related Tags