Diablo III Switch to support amiibos
We could see more Zelda and even Mario skins show up in the land of Sanctuary.

Published Sun, Sep 2 2018 6:14 PM CDT
|
Updated Tue, Nov 3 2020 11:50 AM CST
The Diablo III port on Nintendo Switch will be compatible with amiibos, but details on the exact unlocks and figurines remain scant.
A Blizzard rep recently confirmed to Shacknews that amiibos can be used in Diablo III's Switch flavor, but we're unsure how this will pan out. Since the ARPG has Zelda cross-overs with the Ganondorf skin and the Master Sword it's likely we'll see even more Nintendo characters and gear show up in-game, possibly even Mario cosmetics. At the very least we should see more Zelda amiibo compatibility arise in D3.
It'd be interesting to see Diablo amiibos show up in stores, but this is doubtful given the game's mature themes. I'd love to see a Prime Evil Diablo mini-fig that's somehow compatible with, say, Super Smash Bros. Ultimate but that could be a little too...demonic for the Nintendo brand.
The Diablo III Eternal Collection will release on Nintendo Switch sometime this Fall and includes all previously released DLC like the Reaper of Souls and Rise of the Necromancer expansions.
Here are a few major tidbits about Diablo III on Switch:
Runs at 60FPS 720p in handheld mode, 60FPS 960p while docked

Offline splitscreen on a single Switch, offline local on 4 Switches, and online (via Switch Online subscription) co-op with up to 4-players supported

Single joy-con/dual joy-con/Switch Pro controller support

Cloud backups supported, will automatically upload progress to cloud when Switch is connected

Profiles and saves can be transferred to a friend's Switch from the cloud

No cross-play at launch

No migrating saves from other platforms (ie PS4, PC, or Xbox One), players will have to start new save

Adventure Mode can be accessed at the start, players won't have to complete campaign first

Comes with Reaper of Souls and Rise of the Necromancer pack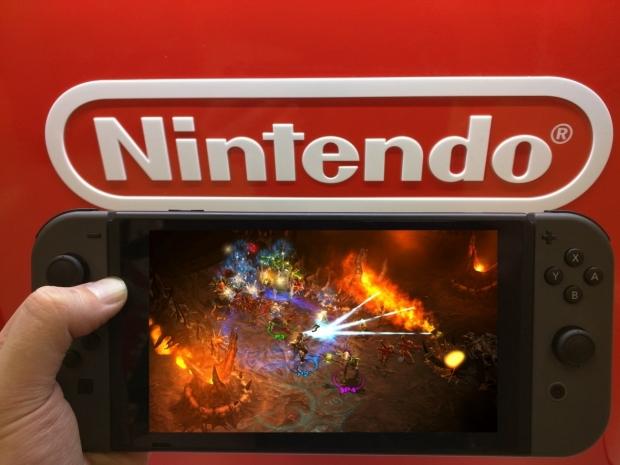 "The Eternal Collection is the definitive version of Diablo III, and we're thrilled to team up with Nintendo to unleash it for Nintendo Switch gamers around the world later this year," said Mike Morhaime, CEO and cofounder of Blizzard Entertainment. "Bringing the world together through epic entertainment is core to our mission at Blizzard-we can't wait to welcome a new generation of demon-slayers to Sanctuary."

"At Nintendo, we're huge fans of rich and compelling games that speak to players around the world," said Reggie Fils-Aime, Nintendo of America President and COO. "By partnering with companies like Blizzard, we're able to create new ways of engaging with beloved content. Blizzard and Nintendo share a commitment to redefining the way people play games, and with Diablo III Eternal Collection for Nintendo Switch, that means players can now explore the vast world of Sanctuary anytime they like, and anywhere they go."

Diablo III is the fastest-selling PC game of all time**. The Reaper of Souls expansion introduced the mighty Crusader class, the infinitely-replayable Adventure Mode, and a host of other game-defining features, like the random loot-filled Nephalem Rift dungeons. In 2017, Rise of the Necromancer resurrected the fan-favorite Necromancer class from Diablo II, bolstering players' forces with the gruesome powers of blood and bone. All of this is included in Diablo III Eternal Edition for the Nintendo Switch system, on top of platform-exclusive bonus items, like The Legend of Ganondorf cosmetic armor set, inspired by the iconic villain from The Legend of Zelda series.

Diablo III Eternal Collection for Nintendo Switch will be available later this year at retail stores everywhere and digitally through the Nintendo eShop. Gamers in North America and Europe will be able to get an early look at Diablo III Eternal Collection this August at Gamescom in Cologne, Fan Expo in Toronto, and PAX West in Seattle. For more information, visit https://www.diablo3.com/switch. For screenshots, video, and other media, visit the Blizzard Entertainment press site at https://blizzard.gamespress.com/Diablo-III.
Related Tags