NVIDIA should be announcing its next-gen GeForce RTX series of graphics cards on August 20, with more details, speculation and rumor being thrown onto the internet than ever before.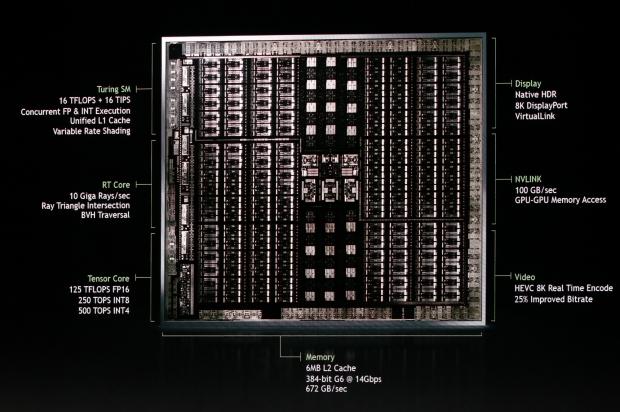 We're now seeing some detailed specifications on not just the forthcoming GeForce RTX 2070 and RTX 2080 but the higher-end RTX 2080 Ti that should truly blow the doors off of everything else on the market. The current rumors peg the RTX 2080 at beating the TITAN V, and considering that's a Volta-based HBM2-powered $3000 graphics card, those claims are beyond imagination.
We should expect NVIDIA to release a beefed up GeForce RTX 2080 Ti if the naming scheme stays the same as the GTX 10 series (GTX 1070, 1080, 1080 Ti) and from the current crop of information, it will be an utter beast. If the GeForce RTX 2080 is beating the TITAN V, then the RTX 2080 Ti would be truly insane. It should have 11GB of GDDR6 on a 352-bit memory bus (the GTX 1080 Ti has 11GB of GDDR5X on a 352-bit memory bus).
In finishing, if the RTX 2080 beats the TITAN V then the purported RTX 2080 Ti would absolutely pound it. We're talking 4K 144FPS on a single card, which is quite the achievement as even the GTX 1080 Ti can struggle in some games maintaining 60FPS at 4K. We'll see soon enough, but don't expect the RTX 2080 Ti to be unveiled just yet - NVIDIA won't show all of their hand at once, we still have legs to stretch with Turing post-RTX 2080.