NVIDIA unveiled its next-gen Turing GPU architecture during SIGGRAPH 2018 with the new Quadro RTX range of cards featuring GDDR6 memory from Samsung with transfer speeds of up to 14Gbps.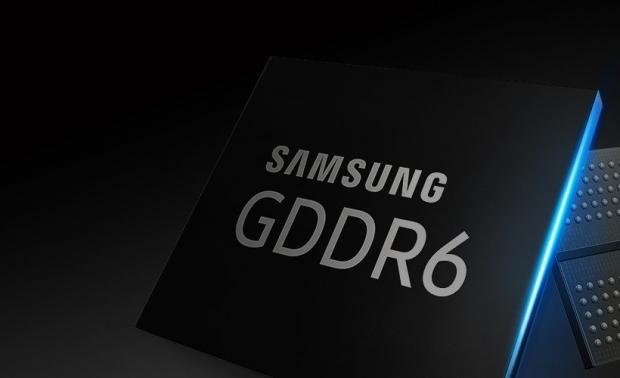 Samsung is providing its new GDDR6 technology for NVIDIA's latest cards, with the company using the 10nm node for its GDDR6. Jim Ellott, Corporate Senior Vice President at Samsung Semiconductor explained: "It's a tremendous privilege to have been selected by NVIDIA to launch Samsung's 16Gb GDDR6, and to have enjoyed the full confidence of their design team in making our key contribution to the NVIDIA Quadro RTX GPUs".
NVIDIA's new Quadro RTX 8000 has an astounding 48GB of GDDR6 and when used in two-way NVLink mode that VRAM framebuffer doubles to a huge 96GB of super-fast GDDR6 memory. Samsung's new 10nm-built GDDR6 tech will eventually run at up to 18Gbps (up from 14Gbps) and that each die can transfer data at 72Gbps, which is a two-fold increase over the same GDDR5 chips with 8Gbps bandwidth.
Samsung explains: "Built on Samsung's advanced 10-nanometer (nm) class* process technology, the new GDDR6 memory comes in a 16Gb density, which doubles that of the company's 20-nanometer 8Gb GDDR5 memory. The new solution performs at an 18-gigabits-per-second (Gbps) pin speed with data transfers of 72 gigabytes per second (GBps), which represents a more than two-fold increase over 8Gb GDDR5 with its 8Gbps pin speed. Using an innovative, low-power circuit design, the new GDDR6 operates at 1.35V to lower energy consumption approximately 35 percent over the widely used GDDR5 at 1.55V. The 10nm-class 16Gb GDDR6 also brings about a 30 percent manufacturing productivity gain compared to the 20nm 8Gb GDDR5".
It might not sound like much, but it means that we can expect a 256-bit memory bus on a consumer GeForce GTX 2080 for example, to contain up to 16GB of GDDR6 (double the GTX 1080 and its 8GB of GDDR5X) with a huge 576GB/sec memory bandwidth. A higher-end TITAN or GTX 2080 Ti could pack a larger 384-bit memory bus (they normally do) with a maximum of 24GB of GDDR6 with a huge 864GB/sec of memory bandwidth on-tap which would be truly amazing.
We should expect:
New TITAN RTX: 12-16GB GDDR6 @ 16Gbps on 384-bit memory bus = 768GB/sec
GeForce RTX 2080 Ti: 12-16GB GDDR6 @ 14Gbps on 384-bit memory bus = 672GB/sec
GeForce RTX 2080: 8GB GDDR6 @ 14Gbps on 256-bit memory bus = 448GB/sec
GeForce RTX 2070: 8GB GDDR6 @ 12Gbps on 256-bit memory bus = 384GB/sec
We could expect a different naming scheme other than just 'RTX 2080' as I've had sources tell me that the naming system will be changed. We could see a RTX 2080X or something to that effect.