SIGGRAPH 2018 - NVIDIA has just kicked off its SIGGRAPH 2018 press conference with CEO Jensen Huang unveiling their new Turing GPU architecture and three new Quadro RTX graphics cards.

The new Turing GPU is the largest leap in GPU technology from NVIDIA since the CUDA GPU was unveiled back in 2006, with a huge 18.6 billion transistors on a 12nm process. There's also a Tensor Core inside with 125 TFLOPs of FP16 performance, and an RT Core with 10 Giga Rays/sec of performance. The Turing GPU in all of its glory uses 754mm2, compared to 471mm2 of Pascal (which had 11.8 billion transistors).

NVIDIA revealed three new Quadro RTX branded cards with the Quadro RTX 5000, Quadro RTX 6000, and Quadro RTX 8000. The flagship Quadro RTX 8000 features 4608 CUDA cores, an insane 48GB of GDDR6 memory and an equally as huge $10,000 price tag. The new Quadro RTX 6000 has its VRAM cut in half to 24GB with the rest of the specs at the same level for $6300 while the RTX 5000 has its CUDA cores cut down to 3072, and its GDDR6 down to 16GB with a price of $2300.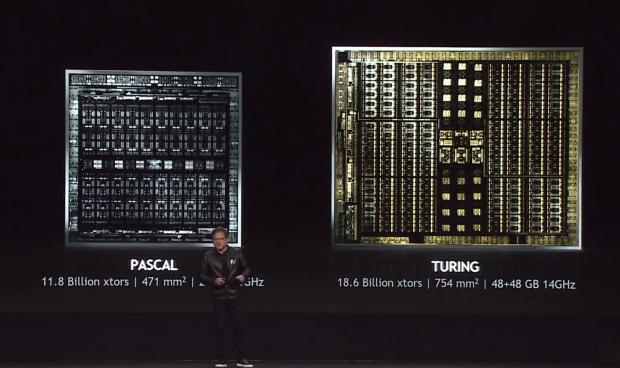 These new Quadro RTX series graphics cards are the first in the world to feature VirtualLink connectors, the new USB-C connector for next-gen VR headsets.
NVIDIA's new Quadro RTX graphics card range will be available in Q4 2018.