Can you believe that Fortnite is already a year old? Epic Games is celebrating the first birthday of Fortnite with a new birthday-themed update that is now live for the PC, Xbox One, PS4, Nintendo Switch, and iOS.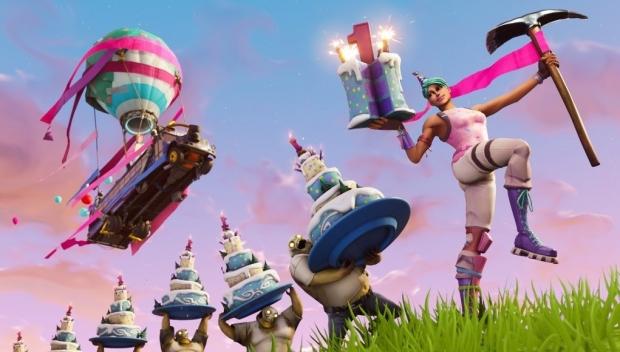 The new Fortnite update includes a new set of weekly challenges for the Battle Pass, a new submachine gun, and Playground Mode makes a return. There are of course birthday-themed skins, a Battle Bus somewhere in the world with streamers and birthday challenges that you and your friends will need to complete in Battle Royale mode, even without a Battle Pass.
You'll need to play 14 battle royale matches in order to complete the first challenge, push out 1000 damage to enemies to complete the second, and the third will see you dancing in front of 10 birthday cakes that are hidden all around the island. As you unlock each individual challenge, you'll receive cosmetic items for the battle royale mode. These items include a birthday-themed backpack that Epic calls "back bling", while there's also birthday cake slides throughout the island that will provide you with 5 health points instantly, and 5 shield points when you eat them.
Epic has also hidden a bunch of things for Fortnite players to find that it hasn't made public, with fans discovering that the map is filled with mini-games that can be played together. One of which is from FortniteINTEL.com that posted to their Twitter account that they found some birthday minigames that include skeet shooting. This is the kind of stuff that Epic does to Fortnite that has seen it become a worldwide phenomenon, driving $1.2 billion in sales since September 2017, made Epic Games founder a billionaire, and has seen the developer go from $5 billion in value, to a huge $8 billion.