AMD Ryzen 3 2300X: 4C/4T processor tested at 5.5GHz on LN2
5.5GHz out of a quad-core processor for under $150? Not bad... except it needs LN2 to get there.

Published Thu, Jul 5 2018 8:35 PM CDT
|
Updated Tue, Nov 3 2020 11:51 AM CST
AMD is set to have one of the most exciting quad-core CPUs of the last generation or so with its upcoming Ryzen 3 2300X processor, which has found its way into the hands of XFastest, who also grabbed the Ryzen 5 2500X that is around the corner.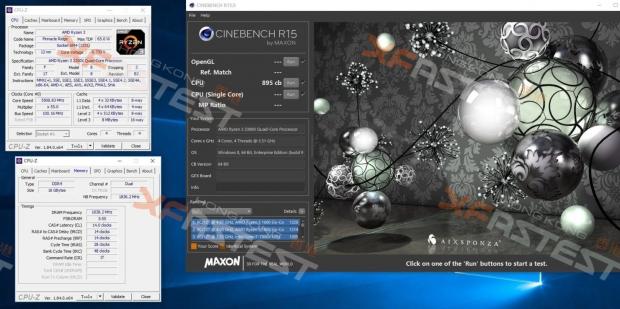 The upcoming Ryzen 3 2300X is a 4C/4T part with no multi-threading support, 3.5GHz base CPU clock and 4.0GHz turbo CPU clocks. This is all made on the 12nm node with precision boost overdrive, and XFR enhanced. XFastest tested the Ryzen 3 2300X and its 4C/4T of budget CPU power under LN2 cooling, where the team reached a peak of 5663MHz (5.6GHz) but it wasn't stable for benchmark runs, so they dropped down to 5585MHz (5.5GHz) and it was fine.
Cinebench results for the overclocked Ryzen 3 2300X reached 895 points in the multi-core test, and 233 points in the single-core tests. CPU-z benchmarks reveal the 2300X scored 642.3 points in single-thread, and 2553.2 in multi-threaded benchmarks. If we compare this against the stock results of 690 points in Cinebench against 895 points when overclocked, we can see the Ryzen 3 2300X is knocking down some performance doors.
Related Tags