Microsoft is working on a new family of consoles (codenamed Scarlett), but what if the hardware ring includes a streaming-only set top box?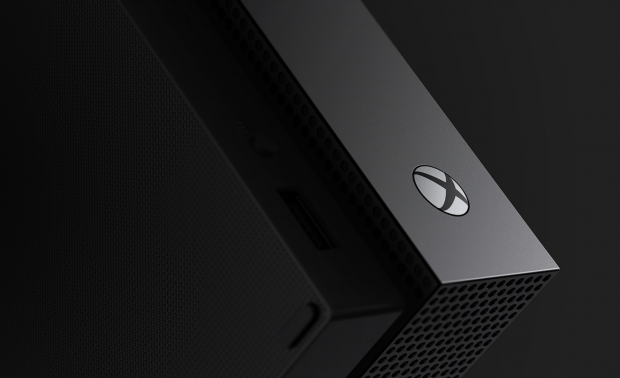 Xbox division head Phil Spencer confirmed two major things at E3 2018 outside of games: multiple Xbox consoles are in development, and that Microsoft wants to bring games to "anyone, anywhere" with a new game streaming initiative. Both of these are likely still in fledgling states as the company ramps up technology plans as well as tweaking its online cloud infrastructure, so it's too soon to tell on either front. But combining Microsoft's current gaming business model with past reports leads to some interesting guesses. What if the Scarlett family includes a low-cost Xbox Mini?
Way back in 2016, Windows Central reported that Microsoft was testing streaming-only devices that would play Xbox games and run Windows 10 UWP apps. Codenamed Project Hobart, the devices would come in two flavors: an HDMI stick and a set-top box. The idea was to make low-cost devices that could play games, run apps, and serve as a TV-based multimedia inlet to consume content.
Hobart was cancelled due to UWP issues on mobile devices, but the latter is the most interesting to me and seems to fit nicely with Microsoft's current ambitions.
Fast-forwarding to today and we have Microsoft pledging to launch an online cloud service that allows consumers to play Xbox games on PCs, consoles and mobile phones. The popular Xbox Game Pass subscription service would undoubtedly power the whole endeavor, with Xbox LIVE's online cloud holding the entire framework together.
"The world of gaming is on a history growth path where the increasing number of gamers is met with the increasing creative power of game developers. In this significant moment we are constantly challenging ourselves. Where can we take gaming next?

"Our answer: we commit and harness the full breadth of our resources at Microsoft to deliver on the future of play. Our experts at Microsoft research are developing the future of gaming AI, so the worlds and characters we enjoy will be even more rich and more immersive.

"Our cloud engineers are building a game streaming network to unlock console-quality streaming on any device. Not only that, we are dedicated to perfecting your gaming experience everywhere you want to play: on your Xbox, on your PC, or your phone."
So Microsoft once theoretically had the hardware--or at least the idea for the hardware--and now it has the subscription business model that's churning engagement quite well.
But why make a so-to-speak Xbox Mini?
Essentially I'm thinking that Hobart-or-Xbox-Mini system would be online-only, meaning it has no disc drive, and is scaled down in power. This would keep the retail cost down. It theoretically wouldn't have the specs required to play Xbox One games without extra power from the cloud.
The main idea is that it'd serve as a more accessible conduit to Xbox LIVE's storefront and services while giving players an affordable solution for living-room gaming. I see it more as a gateway to Xbox Game Pass, etc. and less as a dedicated console. Expandable hard drive support could be included and it'd be compatible with Xbox controllers too.
The device could also access other Microsoft services and apps like Word, Excel, etc, and run Netflix and Hulu to boot. But in my theoretical outline the console's main focus would be gaming.
This means the Scarlett family could include three tiers of hardware: a cheaper, set-top box-like Xbox, an Xbox One S-like middle grade with decent hardware, and the enthusiast-style Xbox One X with expanded specs for demanding gamers.
Of course Microsoft hasn't confirmed anything yet (and they probably won't for years to come) so this is me thinking out loud. But it does pose an interesting theory and I'm curious if the company's ambitions are this high.