Fallout 76 beta comes first to Xbox One
Bethesda may have signed a promo deal with Microsoft for the Fallout 76 beta.

Published Tue, Jun 19 2018 6:15 PM CDT
|
Updated Tue, Nov 3 2020 11:51 AM CST
One of Bethesda's critical learning points for Fallout 76 will come to Xbox One first, and then PS4 and PC later.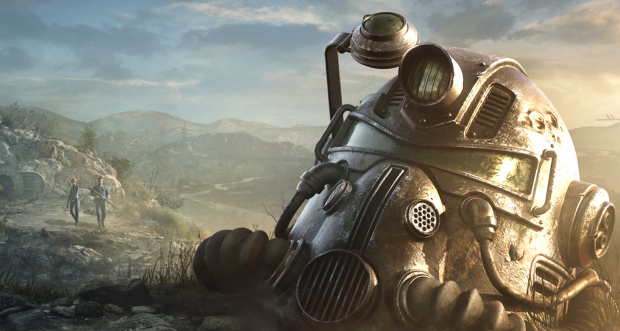 Fallout 76, Bethesda's new experimental online-only survival game, is at its core an interactive live-based experience. Like any live service-powered game it's absolutely vital that the team hold beta tests to fully understand player feedback. Fallout 76 is being tested at the studio, of course, but that's not the same: players will always find ways to break the game with crazy shenanigans the devs couldn't even imagine. No, a series of live tests is needed to prepare the world for the first-ever online Fallout game.
Oddly enough Fallout 76's beta, which requires a valid pre-order of the game, will be coming to Xbox One first. It's odd not from a marketing decision--FO76 was shown on the Xbox E3 2018 stage--but for an overall standpoint of data collection. Live games require digestion and interpretation of a lot of data across all platforms that's used to morph and balance the game with continual updates. The game's beta test is an important opportunity to collect and glean feedback from the data/player habits to ready Fallout 76 for its debut in November.
Read Also: Fallout 76: no NPCs, no offline, real-time VATS, mods later
At the same time though we don't know how much of a beta lead Xbox One owners will have over other platforms. Maybe a few days? Maybe a week? Surely not more than a week... And considering Sony is staunchly against cross-play (for obvious reasons) it's possible the Xbox One and PC camp will get to play with one another so maybe that has something to do with the early roll-out.
"The B.E.T.A. will be available on Xbox One, PlayStation 4, and on PC (via Bethesda.net). Stay tuned for exact timing for each platform here and @Fallout on Facebook, Twitter, and Instagram. Please note that the B.E.T.A. for Xbox One will begin first, followed by other platforms," reads the FAQ post.
Fallout 76 is a pretty ambitious game insofar as its online mechanics, but gamers are still somewhat polarized. Thankfully it can and will change over time thanks to the live updates Bethesda's Austin branch will issue out on a regular basis, funded of course by optional cosmetic microtransactions.
Fallout 76 will launch on November 14, 2018 on PS4, Xbox One and PC.
KEY FEATURES:

You will Emerge!

Multiplayer finally comes to the epic open world RPGs of Bethesda Game Studios. Create your character with the S.P.E.C.I.A.L system and forge your own path in a new and untamed wasteland with hundreds of locations. Whether you journey alone or with friends, a new and unique Fallout adventure awaits.

Mountain Splendorland!

All-new graphics, lighting and landscape technology brings to life six distinct West Virginia regions. From the forests of Appalachia to the noxious crimson expanses of the Cranberry Bog, each region offers its own risks and rewards. Post-nuclear America has never looked so beautiful!

A New American Dream!

Use the all-new Construction and Assembly Mobile Platform (C.A.M.P.) to build and craft anywhere in the world. Your C.A.M.P. will provide much-needed shelter, supplies, and safety. You can even set up shop to trade goods with other survivors. But beware, not everyone will be quite so neighborly.

The Power of the Atom!

Go it alone or with fellow survivors to unlock access to the ultimate weapon - Nuclear Missiles. This destruction also creates a high-level zone with rare and valuable resources. Do you protect or unleash the power of the atom? The choice is yours.

B.E.T.A. (Break-It Early Test Application) Access!
Related Tags