Intel unveiled its Core i7-8086K processor during Computex 2018 a couple of weeks back now, but now Silicon Lottery is offering binned 8086K processors for serious overclockers.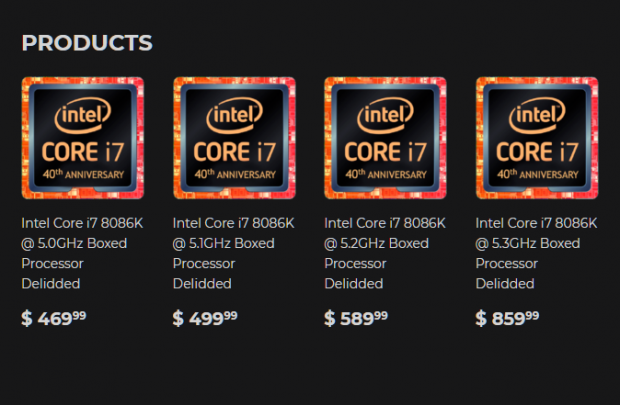 The company is offering the $430 processor which runs at 5GHz out of the box in a special binned variant that rocks up to 5.3GHz, but costs double the price. The 5.3GHz guarantee with 6C/12T of CPU power will cost you $859.99.
There are four different variants on offer: stock 8086K at 5GHz but delidded, then the final three are all delidded but offering 5.1GHz for $499.99, 5.2GHz for $589.99, and finally, 5.3GHz guaranteed for $859.99.
Silicon Lottery explains: "When it comes to overclocking processors, every CPU is different. Imperfections during fabrication cause each CPU to have different limits in terms of clock speed. Our processors have been binned according to their overclocking capabilities, so you are able to purchase a sample that meets your needs".
The site continues: "This CPU includes our delidding service! Factory thermal paste underneath the IHS is replaced with Thermal Grizzly Conductonaut. Depending on the workload, this typically lowers peak core temperatures anywhere from 15C to 25C".