AMD's latest and greatest graphics card looks to be the new Radeon PRO V340, which is a multi-user computing solution for virtualized environments... you know, so not for gaming.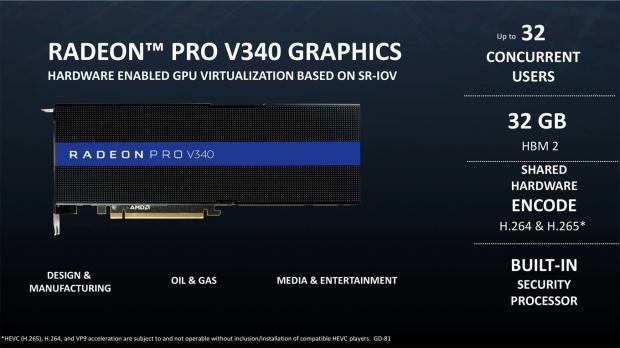 What makes AMD's new Radeon PRO V340 so special is that it features dual Vega 10 GPUs on 7nm, with a huge 32GB of HBM2 on-board. This seems to be the card that was teased at Computex 2018, and now it is becoming a reality.
The new Radeon PRO V340 features shared hardware encoding for H.265 and H.264 codecs, with something that AMD teases as a "built-in security processor" that we have no idea about just yet. This card is made for design and manufacturing, oil and gas research as well as the media and entertainment industry.
Just to be clear: this is not a gaming card, and nor will it be. I wish it was, as dual Vega 10s on 7nm with 32GB of HBM2 would be a monster.