DICE looking to adapt battle royale into Battlefield games
DICE and EA are experimenting and trying to see how Battlefield can leverage the battle royale craze.

Published Thu, May 24 2018 5:21 PM CDT
|
Updated Tue, Nov 3 2020 11:51 AM CST
Big publishers are keen on tapping the battle royale trend in their own ways--just look at Activision with Call of Duty Black Ops 4--and apparently EA is no different.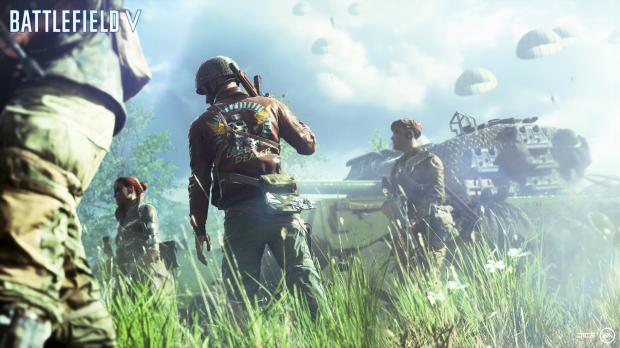 Although pre-reveal Battlefield V rumors attached a battle royale mode to the upcoming WWII shooter, DICE didn't unveil their own unique spin on the popular gametype. The Battlefield V reveal event had no mention of a battle royale mode of any sort. Instead DICE opted to announce Tides of War, a huge new engagement-driven series of live events that rotate and take place in various theaters of war during WWII. But that doesn't mean the developers aren't actively experimenting and attempting to innovate the explosive sub-genre.
According to senior DICE producer Andreas Morrel, battle royale and the Battlefield series are natural mates.
"It's hard to miss the battle royale frenzy that's ongoing. We're all very much fans of it, back at DICE, and we're definitely looking to see how Battlefield can explore the Battle Royale genre," Morrel said in an interview with Gamespot. "We've got the sandbox, we've got the vehicles, we've got the epic scale--it is a natural fit for us."
Now this doesn't mean Battlefield V will get battle royale...but the devs are setting it up to support it all the same. Just look at the new Fortifications gameplay feature that brings to mind Fortnite-style construction/reinforcement.
Also remember that Battlefield V will be driven by engagement through-and-through, making it a strong service game for EA.
The shooter won't have a premium pass of any kind, meaning all post-release content will be free, so a big battle royale mode within Tides of War would not only engage a huge number of players but also organically incentivize cosmetic purchases, which is how Battlefield V should be monetized.
"No, there's no more premium pass in this game. This means no more paying for maps, no more paying for modes. This is something the community has asked for and something the team really believes in. What we want is a game where people stay together, where they play the game together and get to go on this journey through World War II together," DICE's Ryan MacArthur said during the reveal event.
Battlefield V will launch on October 19, 2018 for PS4, Xbox One, and PC.
Related Tags