TweakTown has been the first with most of the next-gen Navi GPU architecture news, where a few months ago now I wrote that sources of mine had said that Vega was such a "disaster" that the RTG team "don't know where they're going forward" and that Navi will be "just as bad" as Vega.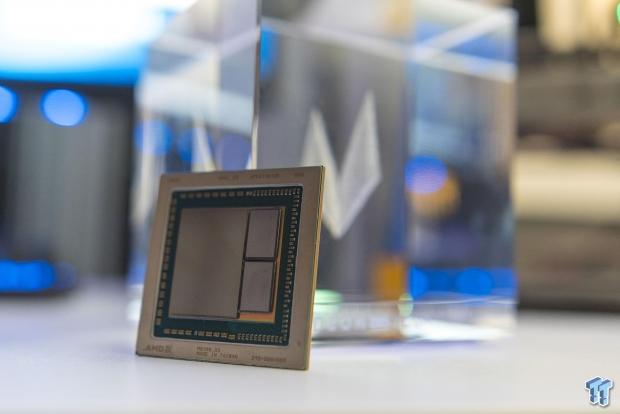 Well, now Chris Hook has left the company along with Raja Koduri - both from the Radeon team in architecture and marketing, respectively. On top of that, we have fresh rumors from Fudzilla that AMD's next-gen Navi GPU will offer GTX 1080 / Radeon RX Vega 64 performance and that it will replace the RX 580 as a mainstream gaming card in 2019.
None of this is new, as I reported about this months ago but the rumors are fresh again and most tech media is picking it up so I thought I would cover it and give it a bit of an injection of reality.
The new rumors say that Navi will not be a high-end part, which is something I said months ago as it would be "just as bad" as Vega. Vega was not a high-end part as it couldn't touch the GTX 1080 Ti let alone the TITAN Xp, but the news of a $250 price has me intrigued.
If... and that's a massive if AMD could price Radeon RX Navi at $250... we're talking RX Vega 64 performance, with slightly lower thermals and power consumption, for the price of a GTX 1060? This is far too good to be true. Especially if it has HBM2, as there's nearly 2/3 of the cost of the card in memory alone. Right now, 8GB of HBM2 costs somewhere around $150-$160... so $250 for a card that costs $700-$1000 now? Hmm.
Secondly, I can see a different road being done here: AMD moves into MCM (multi-chip modules) and uses two smaller Navi GPU dies and with Infinity Fabric, HBM2, and HBCC we could see a GTX 1180 Ti competitor (the successor to the GTX 1080 Ti). I don't think we'll see this with first-gen Navi, as my sources have said Navi will be "just as bad" as Vega.
The same sources said that once the engineering team get used to Navi, we "might" see some improvements, but it will not be to the point where they pose a threat to NVIDIA.
$250 for a next-gen Navi graphics card? Yeah, I don't think so.