Destiny 2's DLC crucible maps will be free for everyone
Starting in May all Destiny 2 players can play expansion maps in Crucible for free--except for private matches.

Published Thu, Apr 12 2018 3:21 PM CDT
|
Updated Tue, Nov 3 2020 11:52 AM CST
In an effort to unify the dwindling and increasingly-frustrated Destiny 2 playerbase, Bungie is making some big restriction changes to the game's PVP crucible mode.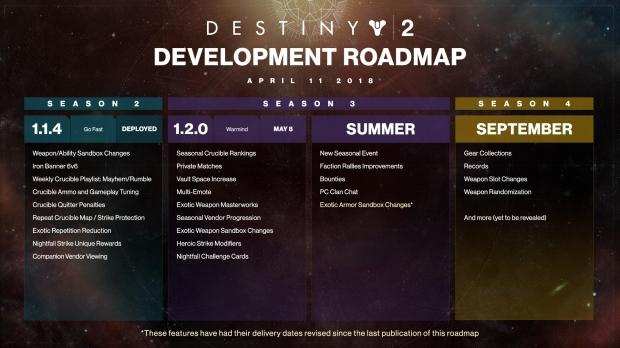 Starting with the May 8 release of Destiny 2's second expansion, Warmind, Bungie will no longer gate off access to new crucible maps behind DLC purchases. As it stands now (and as it stood in the original Destiny game) each $20 expansion unlocks PVP and PVE content such as crucible maps and new strikes/destinations and items. But now Bungie is lifting that paygate for PVP to try and engage its playerbase and pull lapsed players back into the fold with new crucible attractions. The only exception is for private matches: both players will need the appropriate expansions to join the games and play the maps.
"Season Three marks the beginning of a new plan for how we deliver Crucible content. For every player of Destiny 2, we'll be releasing all of the new Crucible Maps being developed for Warmind into matchmaking. The same goes for the maps we released with Curse of Osiris," Bungie wrote on the latest blog post.
"To keep the community in the Crucible unified, everyone will see new arenas in matchmade playlists like Quickplay, Competitive, Trials of the Nine, Iron Banner, as well as the new weekly rotators that include Rumble and Mayhem. That means more opponents for everyone. With the arrival of Private Matches, players will need to purchase each Expansion to have exclusive access to play those Crucible maps with other players in a private match. This plan goes into effect on May 8 with the beginning of Season Three."
Bungie also delivered a revised paid expansion content structure: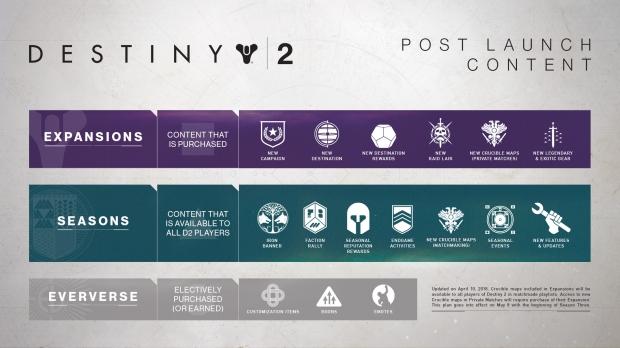 This is a substantial move on Bungie's part and could catalyze more player investment via playtime engagement and possibly in-game spending in the Eververse, but more importantly it's a welcome change to the game's stale state. Fans on the Destiny Reddit feel this is a great start for repairing the game...but much work remains to salvage the sequel.
Related Tags